In July, the Chicago Cabaret Professionals Board unanimously elected Patricia Salinski as President and Ellen Winters Reynolds as Vice President. Patricia and Ellen are both longtime members of Chicago Cabaret Professionals and have experience serving on the Board, Patricia most recently as Vice President and Ellen as Educations Chair. Their terms are for 2023 to 2025.
They join 11 other board members in serving a two-year term, from 2023 to 2025: Pam Peterson, Secretary; Bridget Schutt, Treasurer; Carla Gordon, Director of Development; Gaye Klopack, Director of Education; Carolyn Wehner, Director of Membership; Charles Kouri and Daniel Johnson, Directors of Public Relations; and Kyle Hustedt and Marty Balogh, Directors of Venues; and Robert Bailey, Director at Large.
The all-volunteer board leads a growing organization with more than 200 members from around the country and manages an increasing number of yearly events and programs that include Cabaret Week; CCP Gala; Merry Measures, a two-night holiday show; the Emerging Artist Showcase; a Musical Monday series; Cabaret Beat, an online interview and performance series; Chicago Cabaret Magazine, and educational workshops. Chicago Cabaret Professionals is also active in community outreach programs that advance an interest in and understanding of cabaret.
In addition to the board, Chicago Cabaret Professionals has an active membership involved in five committees and a dedicated group of volunteers who contribute to programming, publications, communications, advocacy, and managing events planned throughout the year.
"It is always a team effort. From the daily activities involved in running Chicago Cabaret Professionals, to the services available to members, to all the public events we produce, we are fortunate to have members with a vast experience in many disciplines who are willing to share their talent and expertise," says Patricia.
"Looking forward, we are building on a dynamic period of growth and challenge where the board created many new programs and found innovative ways to serve our membership through the pandemic. We also saw how our members came together to support each other and the entire arts community. It's one of the reasons Chicago Cabaret Professionals has thrived for twenty-five years."
Ellen also reflected on the past and her goals for the organization. "I want to continue to foster a welcoming and encouraging environment for new and established cabaret artists to grow both inside and outside of the organization. I also believe we can continue to grow our community through education, regional and national collaborations, and producing high-quality performances."
About Patricia Salinksi

Patricia comes to the role of President with experience as a business professional and a cabaret artist. In addition, she has held several other positions on our Board. She has been in the Real Estate/Property Management Industry for over 30 years and has been a guest speaker for CAI on Common Interest Radio (WIND AM560) and is a professional consultant in the area of property management. Also, Patricia has performed at the Auditorium Theatre in the chorus of Too Hot Too Handel, Symphony Center; in Siamsa naGael, Community Theater as Doris McAfee in Bye, Bye Birdie, Cookie in Rumors and Trudy in Social Security.
About Ellen Winters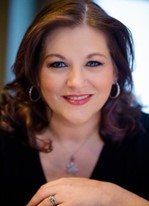 Ellen is a performer, teacher, director, critically acclaimed and award-winning vocalist, who has performed locally, regionally and internationally. She has released two solo CDs and can also be heard on a variety of different collaborations. Ellen has co-written coursework and teaches core Music Theory and Voice curriculum for Columbia College Chicago, where she has been Adjunct Music Faculty and Private Voice Faculty since 2007.  She also directs the Jazz Pop Choir and was selected as the Wisconsin Choral Directors Association (WCDA) All State Vocal Jazz Director in 2021.  She is currently serving as the WCDA Vocal Jazz Chair for Resources & Repertoire. Ellen also has private voice studios in both Milwaukee and Chicago. An acclaimed vocalist who has been singing professionally for over 25 years and has performed in New York, Minneapolis and Chicago as well as international jazz festivals in Europe. She teaches core Music and Voice curriculum for Columbia College Chicago, where she has been Adjunct Music Faculty since 2007.
***
Announcing the new leadership to membership and reflecting on her tenure as Board President from 2019 to 2023 Anne Burnell wrote, "It has been my honor to serve as your President for four years. We weathered a pandemic and still found a way to create music together. There are some big changes that we made over these past few years including file organization, moving a website, music licensing, open auditions, grants, parades, online videos and streaming, educational workshops, social media, Chicago Cabaret Magazine, Chicago Cabaret Week, corporate sponsorships, collaborating with other organizations, and our City. The work took sooooo many volunteers, and my heart is full of thanks to you.
***
-by Charles Kouri