On April 11, 2023, we traveled to see a film debut at the Great American Songbook Foundation (GASF) courtesy of Library and Archives division. In these pages we have been following this important institution in Carmel, Indiana. In our September 2022 issue of this magazine, we covered one of many activities produced by GASF the with Ellen Winters Reynolds's story, "Changing Lives Through Music."
Note that GASF should not be confused with the American Songbook Association (ASA), publishers of Cabaret Scenes magazine, a New York based organization that also shares our mission in respect to the American Songbook and is also covered in these pages.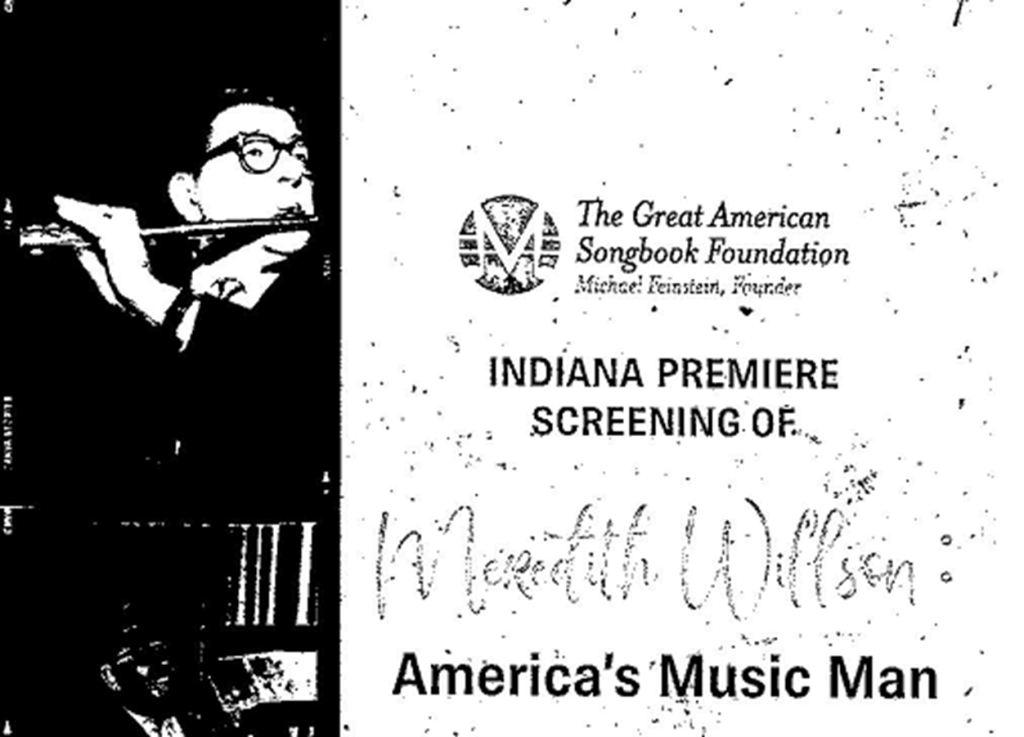 GASF was founded in 2007 by multi-award winning Michael Feinstein, known as the Ambassador of the Great American Songbook. Among many other activities, Feinstein serves as the artistic d,irector of the Center for the Performing Arts in Carmel where the Foundation is located.
An outstanding research resource, GASF's Library & Archives was established to preserve the cultural materials that have enduring value to the historical documentation of American popular music. According to their website, GASF "archives and library houses hundreds of books, thousands of sound recordings, and tens of thousands of arrangements and pieces of sheet music." It is this archive that facilitated the research  fostering the documentary we saw celebrating Willson's life and work.
Explained on the GASF website, the archive includes a large portion of the Meredith Willson papers "which came to the Songbook Foundation through the Music Man Foundation" courtesy of Mrs. Rosemary Willson, Meredith Willson's long-time secretary and third wife, and "feature materials related to Willson's four musicals (including several early drafts of The Music Man); 40+ scrapbooks; journals, scripts, correspondence, photos, recordings, film, and video."
Having been a long-time follower of The Music Man, I was delighted to attend this Indiana debut of the Iowa PBS produced documentary. My partner and I thought it was outstanding and we hope it will soon be available on more PBS stations throughout the country. Both Tyler Brinegar, the filmmaker, and one of the scholars who consulted with the production (and an Associate Producer of the film), Dominic Broomfield-McHugh Professor of Musicology at UK's University of Sheffield, were present for the occasion and took questions from the attending audience.
I was particularly interested in making the acquaintance of Dominic Broomfield-McHugh whose scholarship on Meredith Willson seems to me to be definitive. Both his studies "Loverly: The Life and Times of My Fair Lady" and "The Big Parade: Meredith Willson's Musicals from Music Man to '1491'" are part of the Broadway Legacy Series that are serious works of scholarship on the American musical theatre and seek to be the latest words on their subjects. That the Meredith Willson Papers brought Professor McHugh to mid-America is a feather in our cultural cap.
As a side note, it is my opinion that the constellation of shows of the late 1950s and early 1960s, such as My Fair Lady, West Side Story and The Music Man are of considerable historic importance. After the 1940s brought the art form into the age of musical drama, the next decade saw works of entertainment that dealt in subject matter with some of the most important emerging issues of the time; in the above examples, for instance, misogyny, tribal gang conflict, and chauvinism. We can see from our contemporary vantage that these works were taking a step toward higher literature, beyond light entertainment. To me, they consist of social satire. But I digress.
In the Q&A, Professor McHugh was asked how he evaluated Meredith Willson's accomplishment. In answering, he alluded to how dolphins "surfed the waves," propelling them in forward motion by understanding the way oceans move to boost forward progress. Likewise, Meredith Willson seemed to always make the right career moves at the right time. He had an amazingly eclectic and successful career as a concert musician playing the flute in bands and orchestras, was a composer of art music and film scores, was a music director/conductor on radio, became a popular songwriter, radio personality and raconteur, writer of popular memoirs and writer of Broadway hits. Until his final project, he never made a false move. An exemplary man of his own time, his streak of success was a victim of changing times by the late 1960s. His last show was a disaster when he failed to recognize the fallacy in imperialism which was beginning to emerge as one of the most critical issues in our history. Modern American was beginning to come to terms, although haltingly, with the stain of genocide brought about by Manifest Destiny. The world view of Willson's last show concerning Christopher Columbus was simply in bad taste.
Here is a clip of Tyler Brinegar promoting his film: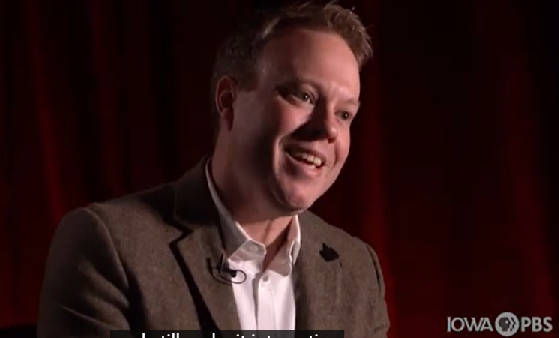 Producer Tyler Talks Meredith Willson | Meredith Willson: America's Music Man – YouTube
GASF has numerous on-line resources of interest to the public but of particular interest to our membership. As creatives, some of us like to take deep dives into the subjects that inspire our creations. It is important that GASF is known as the resource it aspires to be. Lovers of Meredith Willson's work will enjoy an online exhibit (not the PBS doc) produced by the Archive: The Unsinkable Meredith Willson.

The Unsinkable Meredith Willson Online Exhibit (thesongbook.org)
-by Daniel Johnson