For Chicago Cabaret Professionals, Musical Mondays is not to be confused with the show-tune fest celebrated Mondays at Boystown's popular Video Bar, Sidetrack. No. Musical Mondays for CCP was originally Musical Mondays on the Magnificent Mile.

After long experience producing annual fundraisers, CCP began considering other opportunities for group cabaret concerts to bring the best of cabaret to Chicago audiences. Realizing that many theatres were interested in hosting concert series to keep their "dark nights" booked, these off-nights in theatre being typically on Monday, the word went out.
Our founding past-president, Suzanne Petri, remembers what happened next: "It all began in November 2007 when Jim Jensen called me and said he was interested in collaborating with CCP at the Drury Lane Water Tower Place, where he was General Manager. Joan Curto, Bob Moreen and I met with Jim and talked about doing off-night shows in that beautiful, refurbished theater. Jim suggested we tap the talents of Gitta Jacobs, an accomplished producer, to support us in the endeavor. Jim and Gitta had been CCP Advisory Board members for many years. They had been invested in our growth and ability to create cabaret entertainments from the ground up.  We met to discuss details and ideas, and to create a small committee to work with Jim.
The committee, Joan, Bob, MaryMonica Thomas, Carla Gordon, Laura Freeman, Heather Moran and I," Suzanne goes on, "met a few times to discuss details, plans and ideas and then we met with Jim at the Drury Lane on January 3, 2008, to find a date and create a two-hour show with intermission.  Drury Lane would provide everything needed as far as tech, ticketing, publicity, etc. and we would cover our personnel, performers, group promotional materials. Gitta and I worked on the budget and Heather was working on PR material."
After approval by our Board of Directors, the proposed first date was to be February 18, 2008, we signed a contract with the theatre and Howard Reich announced in the Chicago Tribune for January 16:
Live concerts will be returning to Drury Lane Water Tower Place, at 175 E. Chestnut St., starting next month.
The venue where Tony Bennett, Pearl Bailey, Ella Fitzgerald and other jazz stars once performed will spotlight Chicago vocalists on Feb. 18 for "My Fair Cabaret," featuring the music of Frank Loesser, Alan Jay Lerner and Frederick Loewe.
"My Fair Cabaret," running on a Monday night, will not interfere with Drury Lane's current production, "Altar Boyz."
Petri recounts, "The first show My Fair Cabaret; the Music of Loesser, Lerner and Lowe." Musical Mondays on the Magnificent Mile was produced by our Committee and for Drury Lane, Gitta Jacobs Jim Jensen and Kyle DeSantis. Directed by Suzanne Petri with Music Direction by Bob Moreen and Beckie Menzie, with a cast of Joan Curto, David Edelfelt, Laura Freeman, Carla Gordon, Claudia Hommel, Joel Kopischke,Tom Michael, Heather Moran, Bradford Newquist, Daryl Nitz, Suzy Petri, Jeanne Scherkenbach and Brad Thacker."
The critical response was enthusiastic:
Last February, on one of the coldest nights of the year, Chicagoans swarmed into Drury Lane Theatre Water Tower Place to hear live music.
It had been 24 years since the venue had swayed with the sounds of jazz and cabaret, and the huge turnout on that freezing Monday evening augured well for future concerts at the refurbished Drury Lane.
Now Chicago Cabaret Professionals — the enterprising, non-profit organization that produced that historic February concert — has initiated a "Musical Mondays at Drury Lane" series. Starting in May, the "Musical Mondays" program will offer a monthly, themed performance by leading Chicago cabaret artists." By Howard Reich, Chicago Tribune, April 8, 2008.
Misha Davenport in the Sun Times wrote:
When you think Mondays, Suzy Petri, the president of Chicago Cabaret Professionals, is hoping you'll think music.
As in Musical Mondays.
Coming off a very successful cabaret show in February that saw 400 people turn out despite some horrible weather, CCP has gotten the green light from Kyle DeSantis, president of Drury Lane Water Tower Place, to begin programming a monthly cabaret series on Mondays. "We have lots of ideas and we're thrilled about this going forward, Petri says.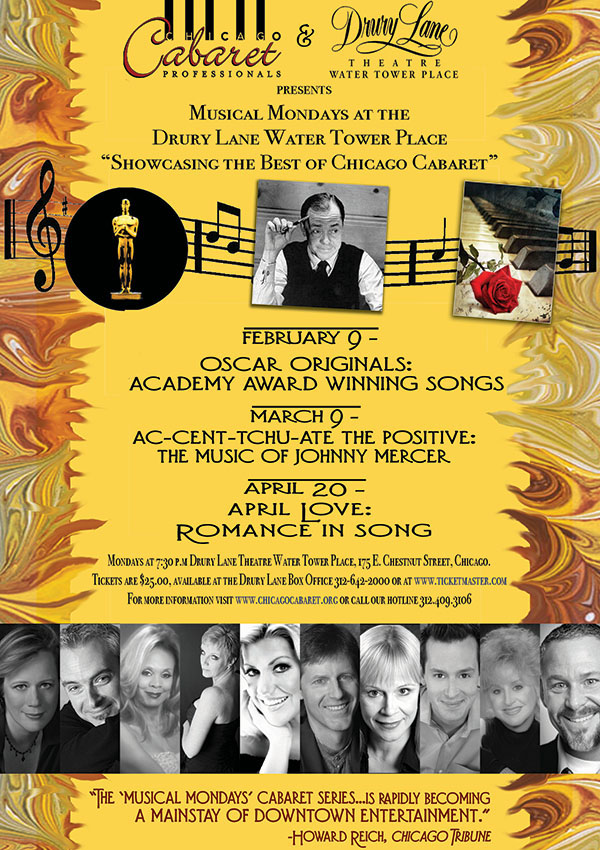 The series went forward with such programs as Everything's Coming Up Rosie, Those Were the Days: The Heyday of Chicago Nightlife, and All-American Songwriters: The Music of Gershwin, Porter, Berlin, Ellington and More!
Petri reports that the series continued at the Drury Lane Water Tower Place until the theatre changed hands becoming the Broadway Theatre under Broadway in Chicago management.
After such a prestigious beginning it was challenging to find another appropriate venue.
In an interview, Joan Curto told Howard Reich in 2014: "It's true that since we stopped doing it, I can't tell you how many people have said to us, 'Are you ever going to do that series again?' We always wanted to … but there were a lot of logistics involved in doing this again. Where could we do this? Where did it make sense?"
After a concerted search for a new venue, CCP, under Joan Curto's leadership, revived Musical Mondays at Victory Gardens Biograph Theater with Legends of Broadway in 2015.
Hailed again by Howard Reich (Tribune, June 24, 2015)
Cabaret often is called the fragile art, but it sure wasn't fragile on Monday night. With a capacity audience crowding Victory Gardens Biograph Theater, several of the city's most accomplished cabaret artists launched the new season of the Musical Mondays series at full throttle.
The series continued seasonally at the Biograph until pandemic shut-down. During that period, for one season CCP experimented with producing Musical Mondays at both the Biograph and at The Skokie Theatre. One edition at Skokie in 2017 was the memorable All That Jazz: The Music of Kander and Ebb, directed by Jeff Dean with Music Direction by Pat Rusk and a cast of Wydetta Carter, Jeff Dean, John Eskola, Scott Gryder, KT McCammond, Jan Slavin, Cheryl Szucsits and Scott Urban. One fan asserted that this show was so successful it should have gone out on tour!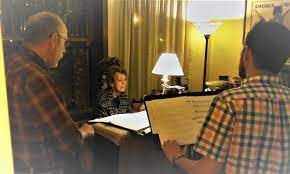 Our 2019 season at Victory Garden Biograph Theater featured three offerings: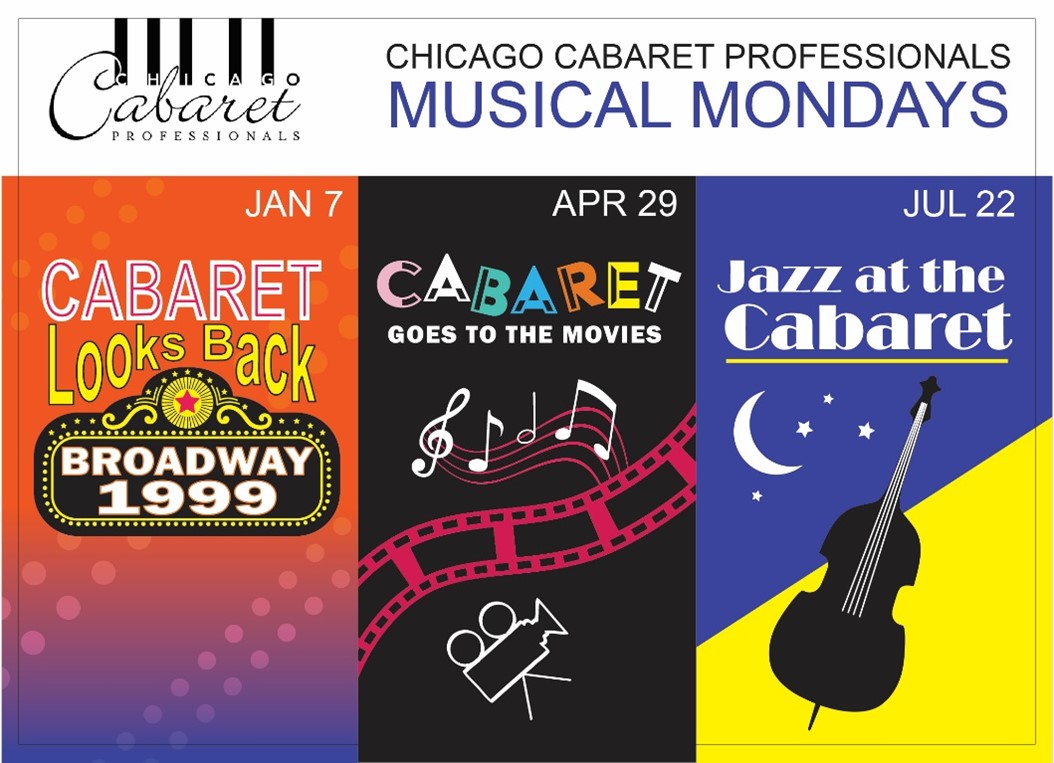 Reflecting on our last season, all three shows in 2019 were successful artistically, befitting our mission, but by the end we were also proud to note that our final event sold out.
For upcoming events, Charles Kouri of our public relations committee writes: "This spring, Chicago Cabaret Professionals is hosting two unique cabaret concerts — Musical Mondays — showcasing the talents of more than 25 local cabaret artists. The concerts will be at the Myron R. Szold Music & Dance Hall, in the Old Town School of Folk Music.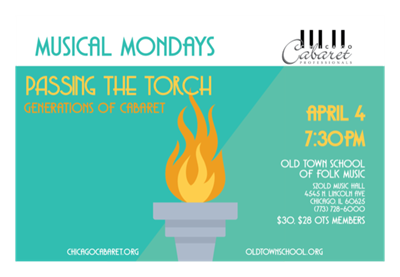 The first concert, scheduled for Monday, April 4, pairs popular veteran cabaret performers with Chicago's brightest new talents performing torch songs. The second concert, on Monday, May 9, will feature pop songs re-imagined in a cabaret style. The May 9th performance will also be a part of Chicago Cabaret Week, with multiple cabaret events scheduled at popular music venues around Chicagoland — with artists performing blues, jazz, burlesque, pop, comedy, Broadway and the standard American Songbook."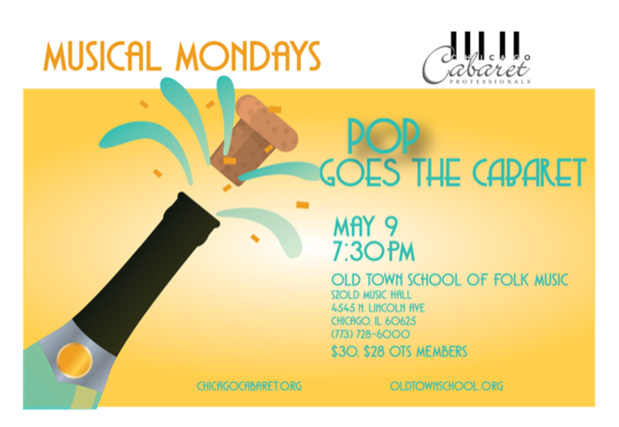 "We are excited to relaunch Musical Mondays at the Old Town School, which is a fabulous venue for performance and dance," said Anne Burnell, president of Chicago Cabaret Professionals.
The 2019 season was a huge success with a sellout final show. Then Covid postponed Musical Mondays until now, and after two years without ticket sales, Chicago Cabaret hopes for another sell out!
For more information on upcoming events go to our website and follow us on social media.
−by Daniel Johnson