Over the past year, one of the longest running online cabaret shows — maybe in the country — has been BurnellMusic Live! with Anne and Mark Burnell. Streaming every Thursday night since last March, the show draws viewers from over the country — and overseas.
The series started shortly after Chicago was under a stay-at-home order in March 2020 — and the couple anticipated that they would do weekly shows for a month or two until venues reopened and their other jobs returned.

As Anne explained, "One day we saw a streaming performance by Susan Werner and were inspired to put together a similar event. It really gave us a boost to be able to perform again and also to see and hear from friends, family and colleagues who tuned in for that first show."
That event — broadcast from their living room in Chicago over Facebook using a cellphone — drew more than 1,500 views and more than 450 comments.
Although the couple says it is a very different experience to perform without an in-person audience, there is a sense of community for those in the online audience, who post real-time comments for us and others in the chat.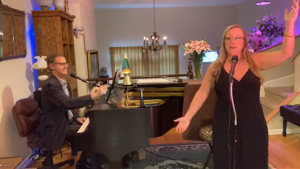 The theme of the first show was "Love Will Keep Us Together" and the duo performed favorites from their cabaret shows. But the format quickly evolved to feature new tunes each week and, as of mid-February, the couple have performed more than 400 different songs.
According to Anne, "In creating a new show each week, there is a lot of freedom to experiment, so we have done songs we would not have considered before or tried new arrangements or style."
For each show, Anne and Mark begin by reviewing song requests and shaping a theme, then adding songs and stories to create a roughly 45-minute show. Most recently, throughout February, the shows celebrated Black History Month and featured a Valentine's theme.
Since the first broadcast on a cellphone, the couple has constantly been adjusting their broadcasting setup to improve audio, video, streaming and editing. As Mark explains, "We have received technical assistance from so many colleagues and friends, and streaming platforms are constantly improving, so the quality of the broadcast is pretty good."
"We never imagined it would go on for a year," explains the couple. But the couple can see continuing the shows in some form because they enjoy creating an online event and connecting with an online audience.
Burnell Music Live! is broadcast on Thursday evening at 7pm CST through Facebook and YouTube.
—by Charles Kouri