With two sold-out evenings of holiday cabaret at Davenport's Piano Bar and Cabaret, Merry Measures returned to the stage as our traditional charity fundraiser. The two productions, presented on Monday, December 5th and Tuesday, December 6th comprised two volunteer casts and directors, with leaders and cabaret artists all working for charity. This year, Merry Measures was an official UNICEF USA event, with money raised in support of ongoing humanitarian efforts in Ukraine.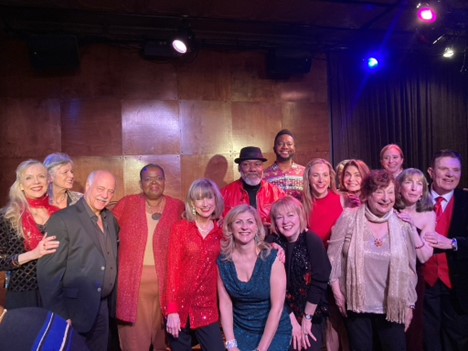 Merry Measures Cast Monday, December 5, 2022 (L to R) Suzanne Petri, Cecile Savage, Bobby Shiff, Wydetta Carter, Pam Peterson, (front row) Catherine Thomson, Carolyn Wehner, Jan Slavin, (second row) T. Patrick Davis, Anna Palermo, Anita Kallen, Russ Goeltenbodt, (in back) Gabriel Valentino, Julia Hawkins (partially hidden), Irene Michaels, and Emily Cox.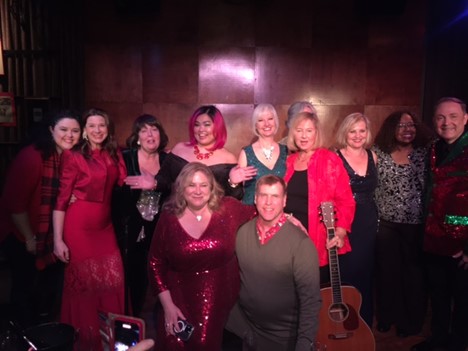 Merry Measures cast Tuesday, Dec. 6 (front row) Staci Kelley and Jonathan Lewis (back row) Gina Mincy, Cindy Firing, Beckie Menzie, Lou Ella Rose, Marianne Murphy Orland, Wendy Parman (hidden behind), Barb Smith, Cathy Glickman, Joyce Thomas and Ken Baker.
The Creative Team
The Merry Measures creative team included Laura Freeman, Producer; Anne Burnell, Assistant Producer; and Myrna Petlicki, Raffle Coordinator. For the Monday event, the Director was Suzanne Petri, Assistant Director was T. Patrick Davis, and Musical Director and accompanist was Bobby Schiff.  For the Tuesday event, the Director was Ken Baker, the Assistant Director was Jonathan Lewis, the Musical Director was Kristin Sponcia, and the accompanist was Beckie Menzie.
−by Charles Kouri