As we know, there is a great crossover between the cabaret and musical theater worlds. Whether it is individuals performing in both art forms or Broadway musical numbers being interpreted by cabaret artists, there is a wonderful creative synergy.
I am very lucky because my volunteer life includes both genres, besides serving as a Board Member of Chicago Cabaret Professionals, I am the president of the Sarah Siddons Society.
The Sarah Siddons Society was founded in Chicago in 1952 by a group of theater loving women and inspired by the fictitious society of the same name in the Joseph L. Mankiewicz 1950 film, All About Eve. The statuette presented each year to the Siddons Award recipient is an exact copy of the one presented to Eve Harrington in the movie. The first award in 1952 went to Helen Hayes and has been presented each year to icons of the American stage. Most recently it was presented Brian Stokes Mitchell, André De Shields and Sandy Duncan. The other very important part of the organization's mission is to fund theater artist scholarships for students at four Chicago area universities: Columbia College, DePaul, Northwestern and Roosevelt.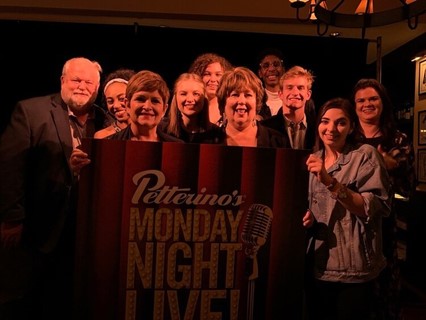 Sarah Siddons Social Scholarship recipients performed at Petterino's Monday Night Live, pictured with Martin Balogh (President), with host Denise McGowan Tracy and Music Director Beckie Menzie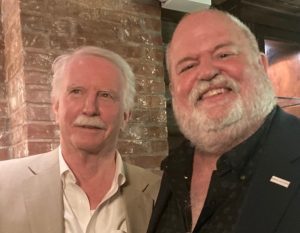 John Lee Beatty and Marty Balogh
This past April the Sarah Siddons Society hosted its third fundraising Immersive Broadway Theater trip to New York. The group of 31 enjoyed four musicals and three meal events including discussions with Broadway artists. A fifth optional show, Summer, 1976 was also offered on Thursday evening.
Friday night began with a Welcome Dinner with John Lee Beatty as the guest speaker. John had designed sets for over 115 Broadway shows. He has won two Tony Awards, for Talley's Folly and The Nance, was nominated for 13 more, and he won five Drama Desk Awards and was nominated for 10 others. His set for the long running revival of the musical Chicago is a classic. John's presentation included sketches and a model of his most recent show, Summer, 1976.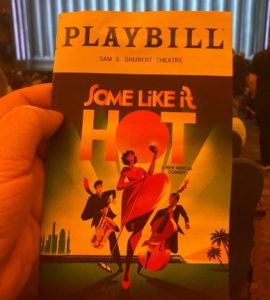 Following dinner, the group saw Some Like It Hot, a new but old- fashioned musical that probably has a song or two that will be heard in cabarets soon.
Lunch on Saturday included guest speaker, Pulitzer and Tony Awardee playwright Doug Wright talking about the creative process involved with his new play, Good Night, Oscar.  Broadway and cabaret star Karen Mason joined the group at the luncheon.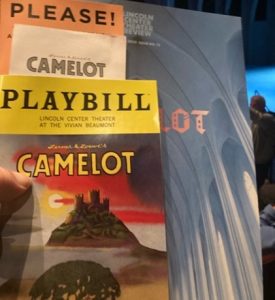 The Saturday afternoon matinee was the beautiful revival of Camelot at Lincoln Center featuring a new book by Aaron Sorkin.
Saturday night the group enjoyed the British import, & Juliet, which is full of Max Martin pop tunes. It is the story of what might have been if Juliet had lived. Safe to say it is the kind of show that has audiences up and dancing.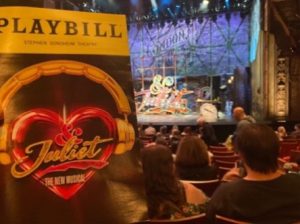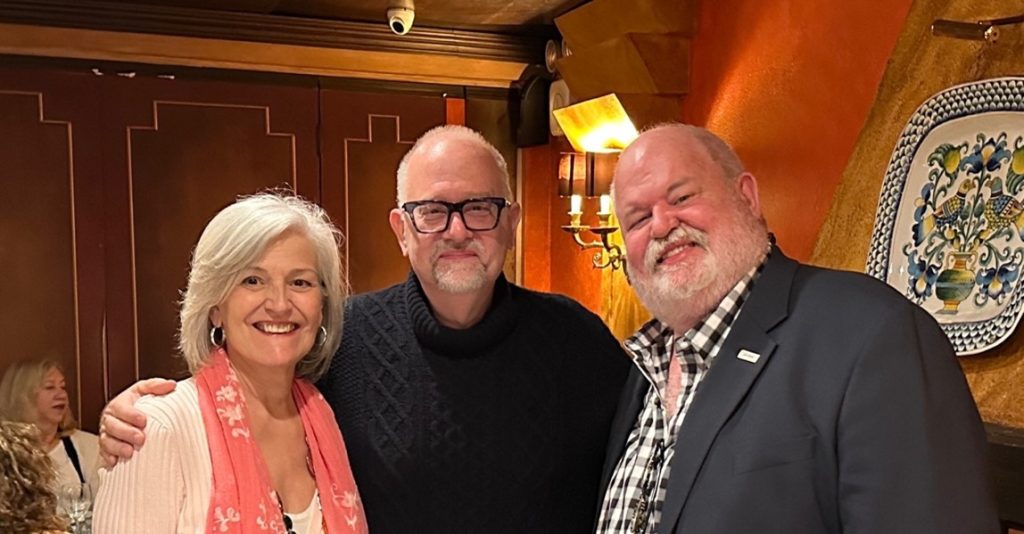 Karen Mason, Doug Wright and Marty Balogh
The Sunday Brunch featured Yando Lopez, a Chicago favorite musical theater performer, making his Broadway debut in Wicked.  He provided the group with great faith that the next generation of Broadway is in good and talented hands.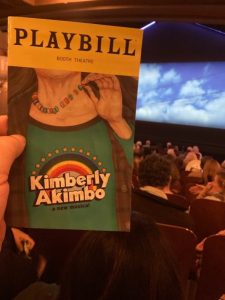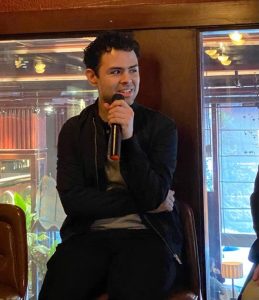 Yando Lopez of Broadway's Wicked

The Sarah Siddons Society Group with Yando Lopez
The final show for the group was the new musical Kimberly Akimbo starring Victoria Clark. This production is about Kimberly, a bright and funny Jersey teen who happens to look like a 72-year-old lady. In a recent New York Times profile of Victoria Clark, she candidly speaks about how her singing voice has changed as she went through menopause. It's a common occurrence for some female singers, including those in cabaret. The article details her fears of taking on the Broadway role, but also her ultimate success and celebration in finding her new sound.
It was an incredible weekend for the attendees.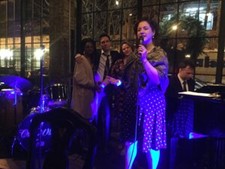 Sophie Grim with Nick Sula at Le Piano at prior a event
Next up for Sarah Siddons will be the annual Swell Soirée on Wednesday, August 16 at Piano Forté in the South Loop. This year's event will also explore the synergy between cabaret and musical theater. The evening will consist of a small group of professional cabaret vocalists who will work with an equal number of musical theater students from the four Chicago area universities that receive Sarah Siddons scholarship funding. Hopefully this will help expose the students to the art of cabaret as they work together on individual and duet performances highlighting the Great American Songbook. CCP's own Carla Gordon will direct the concert and Beckie Menzie will serve as Music Director. It should be a splendid evening. For more information about the Swell Soirée and the Sarah Siddons Society please visit the website.  http://sarahsiddonssociety.org/
-by Marty Balogh