I want to draw your attention to a book that's over thirty years old, because it's a singular achievement.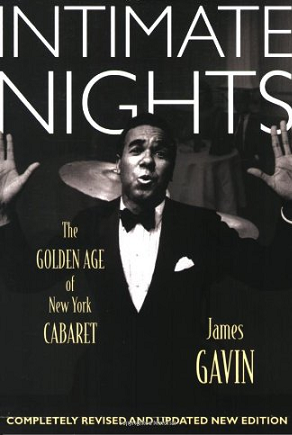 James Gavin performed a great service for the cabaret community with his 1991 book, "Intimate Nights: The Golden Age of New York Cabaret." In it, he captured the bustling decades of the 1930s through the 1980s, and the venues (Blue Angel, Bon Soir, Downstairs at the Upstairs, Duplex, El Morocco, Village Vanguard), performers (Blossom Dearie, Lena Horne, Dorothy Loudon, Mabel Mercer, Bobby Short, Julie Wilson, to name just a few), producers (Ben Bagley, Max Gordon, Julius Monk, Leonard Sillman), accompanists (Bart Howard, Norman Paris), and writers that thrived during that prolific time.
Though the talent may have been performing for little money since the venues were so intimate, many of them were able to make it their life's work. The music they created was very special, and their audiences very lucky.
Gavin goes into a great deal of detail about many of these personalities and places in recreating his word picture of an extraordinary time. But if you're passionate about our mutual art form, this is a book you'll want to peruse.
I know James slightly, and so I asked if I could interview him about his book. The following is an edited transcript.
Charles Troy (CT): Why did you decide to write this book?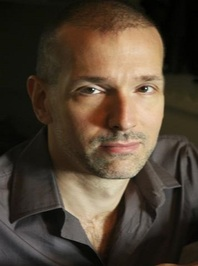 James Gavin (JG): I grew up in Yonkers, and I spent a great deal of time at the library looking at old magazines. I looked in the New Yorker from decades past, and I gradually learned about this glamorous, teeming nightlife that had once existed in New York City.
The part of it that I got into the most were the boites, the little talent rooms that used to be all over New York. Untested performers got their starts in these places and very often went on to big things. There was something about that whole idea that appealed to me greatly.
Most of all, I wanted to be a New York sophisticate. My first serious visit to Manhattan was in the early 1980s as a teenager. I was a writing student at Fordham University and had made up my mind that I wanted to be a writer, but as for what to write, I didn't really know.
One of my very first cabaret experiences was seeing Barbara Lea at the old Jan Wallman's on Cornelius Street. I was enchanted. It just felt like a little exclusive gathering place for people who were in the know, and I wanted this, and so I wrote an essay.
I brought it in to my writing teacher and said, gee, nobody has ever written a book about all these wonderful little clubs that used to be all over New York, and wouldn't it be great if somebody did? And he said, why don't you?
So, I spent the next seven years working on that book.
CT: Well, you certainly did a huge amount of research.
JG: I love doing interviews more than anything else, and doing library research is a huge joy for me. And so, I went about my merry way asking people from that era for interviews. Happily, nearly everybody was alive. I was absolutely in my glory running all over town. Bobby Short was one of the first interviews I did. I got Dorothy Loudon. I got Madeline Kahn. I got Julius Monk. I got Bart Howard.
A lot of the people I was interviewing were surprised and/or amused by me, because I was this college boy who knew quite a bit about those days and about this life and cared so much about it. For this reason, I had great success in my interviews. Very few people said no to me. I did 300 interviews or so in total for that book.
I was aware of the fact that this was an untold story. That's part of the reason why everyone responded to me so well, because they hadn't been asked much about this part of their lives.
CT: How did you get "Intimate Nights" published?
JG: I was a nobody, but an agent agreed to shop my book. The first eight publishers said no, and the ninth one said yes. It got a surprising amount of press. I got reams of reviews for that book. Most of the press was really great. I was like Cinderella at the ball at that moment. My dream had come true.
CT: How terrific. So why did you decide to revise it 15 years later?
JG: In the era that I wrote about in my book, cabaret was this wacky, fearless, daring, experimental art form that encompassed everything under the sun. But by the time I was going to cabarets, the definition of cabaret had pretty much shrunken to somebody singing old songs in a little room. I knew there was obviously a great deal more to it than that.
After my book came out, a whole downtown cabaret scene burgeoned, and so I wanted to acknowledge that. I also wanted a second go at my book because I was a kid when I wrote that first edition. And while it went well and it was well received, I was so much better in 2000 through 2005, when I wrote the revision.
And before I die, I would like to do it even one more time if somebody would let me.
−by Charles Troy