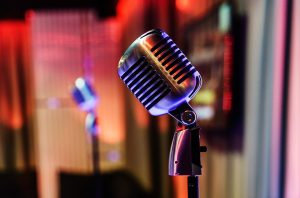 The first time the phrase "lifting restrictions" came out of the mouth of Governor Pritzker, you could all but hear an audible intake of breath across the entire state. For perhaps the first time ever, venue owners and musicians of all types were completely united in joy brought on by government action.
And now, every day, there is an announcement of another music spot that is reopening, live performances being put on the schedule, calendars that were for some time blank slates beginning to refill with dates, times and locations. Live music is BACK!

Here's a quick rundown of venues that are open or about to be open at the time of this writing. All are running at limited capacity and most require a reservation. You might have your temperature checked. If you want to see a show, I suggest you visit the venue's website or call for schedule and any specific protocols in place, and plan to follow them. If all else fails, take a mask with you!
Andy's Jazz Club (andysjazzclub.com), 11 E. Hubbard St., 312.642.6805, Wed – Sun
City Winery (citywinery.com/Chicago), 1200 W. Randolph St., 312.733.9463 ext. 5992, Wed – Sun
Epiphany Center for the Arts (epiphanychi.com), 201 S. Ashland Ave., 312.421.4600, Thu – Sat
The Green Mill (greenmilljazz.com), 4802 N. Broadway Ave., 773.878.5552, 7 days
Hey Nonny (heynonny.com) 10 S. Vail Ave., Arlington Heights, 224-202-0750. Tues. – Sun.
The Jazz Showcase (jazzshowcase.com), 806 S. Plymouth Ct., 312.360.0234, Thu – Sun
Le Piano (lepianochicago.com), 6970 N. Glenwood Ave., 773.209.7631, Tue – Sun
Winter's Jazz Club (wintersjazzclub.com), 465 N. McClurg Ct., 312.344.1270, Wed – Sun
Fans are enjoying live music in the burbs. Some of our performing members have been guests of Piano Man Dave Rice on Fridays at Shanahan's restaurant in Woodridge.
And for those who missed it, Davenport's (davenportspianobar.com) in Wicker Park has announced it will be reopening for live performances in August.
It's been nice that many cabaret singers have found their way onto our various screens, but I am ready to give up my comfy couch and sweat pants in favor of sitting in a real venue with real music being made in the moment by real singers.
− by Tracy Adams