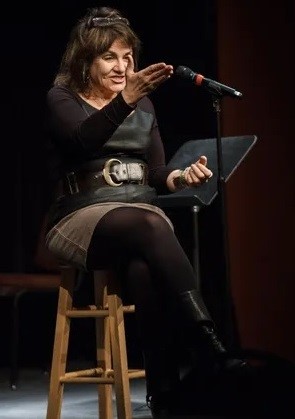 Photo Credit: Lina Koutrakos
One of the most prominent practitioners in our art form, and highly regarded mentors, Lina Koutrakos, turns her attention to Chicago at least once a year, and we love her for it. Back in 2019 she was recognized for her career accomplishments, including her exceptional work in professional training, by Chicago Cabaret Professionals. At that year's Gala fundraiser, she was our National Honoree. And then Covid 19 struck. During the shut-down it wasn't long before Koutrakos moved to virtual private training sessions, continuing her commitment to professional development online, using every technical advance available.
The history of conference training opportunities is covered in Sabella and Matsuki's "Guide for Performers: So You Want to Sing Cabaret," and Lina's work is all over it. Already a teacher at the inception of the conference movement, she learned what performers needed to work on to excel through personal observation. She was deeply involved in live music performance in the 1980s as a cabaret artist and rock diva. When she started to teach, Lina worked both in NYC and nationally to forward the advanced training movement. Significantly, she worked with Lenny Watts in NYC and with Tim Schall in St. Louis, among others, to perfect training concepts. When she started bringing a conference to Chicago over twelve years ago, the Midwest Cabaret Conference caught on right away and has become a premier continuing education opportunity for professionals to advance their careers.
Important to remember: Lina is an accomplished artist in her own right with multiple awards and honors. But she has also gained a reputation as an incisive coach and director, abilities in high demand. She is known particularly for "getting real" in helping singers to achieve authenticity in performance.
Answering a question about her "curriculum" Koutrakos said "Cabaret is personal and individual. The curriculum is dictated by each performer, at their level and with the sum of their parts—not just their voice. I try to focus on what they are sending out to make sure that nothing between that microphone and singer—or the soul and brain—gets lost in translation on its way to the front table, whether they are in a club or the back of an auditorium. That's my curriculum, to honor each person's authentic self." (from Sabella and Matsuki "Guide")
To accommodate a re-emergence from Covid restrictions, this year Koutrakos conceived a hybrid conference. Her unique approach to her 10th annual conference was to make it an all-alumni event—helpful since the Midwest Cabaret Conference is usually by audition only. To this observer, the result had the feel of a class reunion as well as celebration of a shared heritage. First sessions were conducted virtually (online) and then in person for a celebratory weekend, June 4th and 5th, at Davenports Cabaret in Chicago.
As is the tradition with most advanced training conferences, participants gave a recital on the last day. Followers of Koutrakos were expecting something quite extraordinary, and we were not disappointed.  Professionalism was on display throughout as well as heightened esprit de corps. Individuals came together from across the nation, from California, Connecticut, Florida, Iowa, Maryland and Missouri, plus, two singers from Washington D.C., five from New York and six from Chicago.
Mari Ziev started the evening with a pensive and enticing "Who Will Buy" followed by Steve Brammeier who "found us" amazed with a romantic "Pieces of Dreams" by Legrand and the Bergmans. Cathy Glickman complicated our lyrical love affair with Elton John's "Sorry Seems to be the Hardest Word." In an elegant medley Jan Paszcykowski asserted "The Summer Knows" along with "That Sunday, That Summertime" after Ron Squeri's brief trip to Italy with "Evening in Roma." Cheryl Szucsits was outstanding with her embodiment of Michael John LaCiusa's "He Wanted a Girl" from his operatic musical, Giant. Ms. Szucsit's soprano was breathtaking and her rendering heartfelt.
We returned to more standard fare with Linda Kahn's charming "De-Lovely." Gamble & Huff's "If You Don't Know Me by Now" was touchingly interpreted by Jerome Elliott, and Amy Friedl Stoner gave us a novel mash up of "Trouble" by Karin Bergquist and "Trouble" by Leiber and Stoller! Patricia Salinsky brought the house down with her highly amusing "I Don't Want" by David Friedman and Kathy Lee Gifford, and Anna Palermo was mesmerizing in her rendition of Adam Guetell's "Dividing Day" from Light in the Piazza. Jay Cook's "You'll Never Find Another Love Like Mine" made a statement but couldn't shake the disassociation with Lou Rawls' original.
Christine Lavin's poignant "The Kind of Love You'll Never Forget" was well served by Joanne Haley and Carla Godon's useful parody of "Get Me to the Church on Time" gave us a meta moment announcing a real-life engagement. "Overjoyed" by Stevie Wonder, "Tonight I Wanna Cry" by Keith Urban and "I'll Never Love Again" by Lady Gaga in renditions by Susan Mack, Andrew Harmon and Jamie Salzano had the place rockin'. We were refreshed to follow the delightful story of "A Hole in the Sidewalk" by Portia Nelson engagingly told by Michael Miyazaki. The evening drew to a close with masterful performances by Dorian Woodruff of Ebersole's "Gently Down the Stream" and Bacharach and Costello's "God Give Me Strength" sung to a fare-thee-well by Diane D'Angelo.
Lina Koutrakos took the stage to sum up the evening and give thank yous all 'round. Encores were Rick Jensen's "In Passing Years" and "Put a Little Love in Your Heart" by the ensemble. This was a lovely concert full of heartfelt moments and honest expressions shared and shared alike.
At the curtain speech, Lina and ensemble paid special tribute to Rick Jensen, the late music director for Midwest Cabaret Conference, who is sadly missed. Lina is known for always bringing to her workshops collaborators of the highest caliber, and Jensen was instrumental in the conference's success. This year's musical directors were Beckie Menzie of Chicago Cabaret Professionals (also instrumental, having been with the Conference from the start) and Michael Orland, pianist, arranger, vocal coach and Associate Musical Director for TV's American Idol.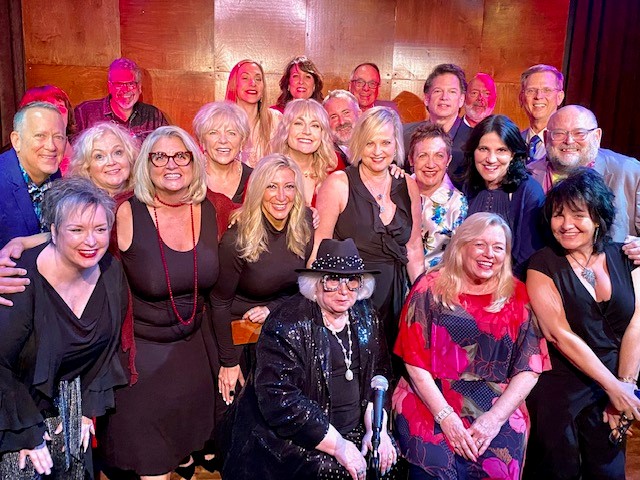 Photo Credit: Ann Talman
The reunion aspect of this recital seemed to be intentional and proved to be a fitting tribute to Koutrakos and Jensen's success working with continuing education. The sense of community building among this Conference's participants and f0ollowers was rich and rewarding. Congratulations to all concerned.
−by Daniel Johnson