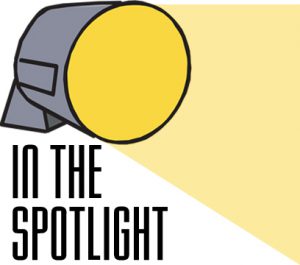 Inducted into Chicago's Gay and Lesbian Hall of Fame in 2012, entertainer and humanitarian Honey West has been a leader in the cabaret community since she introduced "A Taste of Honey" back in 1990. She has been a leading voice for LGBTQIA+ rights in person and in her work on television and film. According to the Hall of Fame, "She has enriched the Chicago cabaret, stage, and entertainment worlds and has used her talents to give back to LGBT communities."
Below: AB is Anne Pringle Burnell, HW is Honey West
−editor

AB: I'm here with Honey West. We have known each other for a long time, and we haven't had a chance to spend solo time together before, well, maybe with (my partner) Mark. So, I wanted to ask you how you got started singing.
HW: Well, I always sang in school, you know choruses and things like that. Professionally, I went to IU for Musical Theatre and my first professional job was in Florida for a little company called Musicana Dinner Theatres. So, they would hire us out to be singing waiters. We would serve meals and cocktails and do a show and then, you know, cabaret. And that was summer of '82 in the middle of Florida.
AB: Oh, my gosh, and then you guys had to bus the tables and everything?
HW: It was a 500-seat house in West Palm Beach. There were eight performers and two swings (who bussed). And we would get [customers] seated and shovel those meals out and I remember they always wanted Sanka, you know decaf. They'd say, "I want SANKA!" and the truth is, (and I'm going to disclose it here for you) eventually it was all Sanka. We were not taking any chances losing one person having caffeine and dying − as they sometimes did. We'd look out from the stage and a whole section would be missing and we knew somebody died.
AB: Awwwwww! (sympathetic laughter). But 500 seats! Were these daytime shows?
HW: Evening shows. We'd do a 45-min revue then serve desert, do another 45-min set, serve coffee followed by a little cabaret. Six nights a week. It was like boot camp. I learned a lot there.
AB: Such as . . .
HW: I learned what I couldn't do. Vocally, working six nights a week, if the voice got a little scratchy I knew I had to stay home and rest instead of going to the beach that day, you know. I had to take care of myself a little better and I had to pace myself onstage.
AB: I worked on the Spirit of Chicago (cruise-line) in similar situation . . . So, let's fast-forward to Chicago. How did you come up here?
HW: Fresh out of college, I worked resorts and cruise ships for about 8 years. Mostly golf resorts on the eastern coast like Hyannis and Hilton Head, Myrtle Beach, Callaway Gardens. Highlands N.C. up in the mountains.
AB: Beautiful though.
HW: Yeah, but I got tired of living in a box, we moved about every four to twelve weeks. Because I grew up in Indiana it was easiest for me to come to Chicago and stay with friends until I got established.
AB: So, I knew you from the original Gentry on Rush and I remember going there and seeing you having a conversation with your audience. It was so good it was hair-raising! I think you were one of the first real cabaret artists that I saw. You and Alex both (co-star, Alexandra Billings). You would sit there and talk to people and if they weren't entertaining and fun you'd just riff and it was very up-beat and engaging and then you'd sing some stunning number. I was impressed that you were so comfortable with the intimacy. Where did you learn that, there's no time for that kind of conversation in revues.
AB: You just brought yourself onstage.
HW: And you know I've been in the business for four decades and up to the last couple years I was considered "unmarketable," yet I worked. But seriously, I wasn't "boy" enough so I wasn't ever going to be playing Curley in Oklahoma (or even Laurie either) so I was a chorus "boy" approaching my 30's and I thought "what is going to happen here?" So, I made a conscious choice to use everything about me that was a deficit: being softer, rounder, with a higher timbre to my voice, and create something marketable. So I created Honey West as a performance vehicle. I couldn't imagine continuing as a chorus boy and it caught on and became successful: it clicked.
AB: And you did that when you were just 27?
HW: . . . when I started to create her. And you know I think, for a good part of my life I was overlooked or ignored, people really weren't sure what to do with me, and so when I was around people, and I guess I tried really hard to connect. It became kind of a behavioral study of people. Because of my whole life, with the bullying, if I kept people laughing, they might not harass or bully me. So, I think that's where the odd sense of humor and the wit comes from – it was easier than running.
AB: That's how you learned to handle tough situations.
HW: I did, I did, and so . . . it's part of how I deal with people and how I deal with myself is through humor. It was insecurity: I was so afraid of people I thought if I talked to them and acknowledge them, that maybe I could connect.
AB: And you have been a bridge . . . Helping others understand.
AB: So, after creating Honey West, would you say you have moved into her completely?
HW: There came a time when transgender found me. It wasn't something I planned. I didn't start transitioning until I was 41 and I just now turned 60.
AB: But I've known you for over 20 years.
HW: Yes, but I was just an entertainer. Through the years we melded together a little bit. The character taught me how to be me. I even resented it a little, when everybody seemed to like her, but nobody liked me. And I stopped performing for a while. Finally, I realized that that was where I was happy. That was who I am. And so I continued to transition. It was a very odd experience. A lot of people know in childhood (and I did know when I was four or five), but it gets verbally beaten out of you.
AB: It wasn't a time where you had any language or role models to look to.
HW: Right, I grew up in the 60s and 70s. No cell phones. No cable or computers.
AB: Television.
HW: Yeah, three channels. And those three channels certainly had nothing that represented who I was. So I learned how to not be me. I hid and lied until I couldn't. And then when I couldn't hide I ate. And like many marginalized people I put life on pause. Recently I read a question on Facebook that asked "how can you heal from something that you don't even know exists?" That you pretend isn't happening. You can't change when you're pretending and I was a great pretender. I tried to be everything people wanted me to be and I couldn't. The guilt of not being able to be me and the shame of what people thought of me kind of swirled around and . . . so,
AB: . . . and your family? Is your family alright? Are they still around?
HW: My mom passed last year at 100 years old. And she had me when she was 41. She accepted me, although she didn't understand really. One day she told her friends, "this is my daughter, he lives in Chicago."
AB: That's good (laughing) she was dealing with her pronouns.
HW: And she couldn't quite get a handle on it. But she loved me, and I knew that.
AB: And that's what counts. And your dad?
HW: He died when he was 74, gosh, some years ago. We never had a close relationship. Both my parents grew up on farms.
AB: In Indiana?
HW: In Missouri.
AB: My birth-mother lives in Missouri and my grandmother did, I'm adopted, but I've been to Missouri.
HW: My dad and I never had any conversations about it. But I'd like to think he would be proud now. But I don't think he could have understood.
AB: Siblings?
HW: I had two siblings much older than me (a brother and sister) and a sister four years older who lives in Hobart and we're very close.
[Conversation pauses]
AB: I was just remembering with Honey that we had a concert together at the Royal George (I remember I left my red sparkle-gown there and a year later I found it in their costume shop). When we shared a dressing room together you and all the girls were putting on false eyelashes which always flew all over the place when I tried them. Honey and K.T. McCammond showed me how to apply the eyelashes, which I'd never been successful with before! You were very kind to me.
HW: I don't know if I told you this trick, but you can get a more natural look by cutting down the lashes, they are easier to manipulate.
AB: Oh, my gosh.
HW: I'm gonna change your life right now. They have a new thing called magnetic eyelashes. Kiss makes them.
AB: I tried that. It's like an eye liner base (easy to apply) and the lash just sticks to the base!
HW: That's what I do, give eyelash tips "Through the Ages."
[Interview resumes]
AB: Well, I'm here again with my uber-talented friend Honey West. I know you were at Gentry for how many years? Ten?
HW: More like fifteen maybe and before that Bugle Boy on Halsted which became Carrs and then Gentry on Halsted.
AB: So, you held court at all the various Gentrys. And then you have been moving into acting.
HW: Almost 40 years ago, I begged for the job but the film was shooting in Florida in the summer and eventually they cast me. I worked for them off and on for seven years, but it was way back in '82. These were the friends who confided that casting people thought of me as unmarketable. But they cast me and continued to cast me.
AB: I guess you weren't that unmarketable…
HW: No, people cast me, but they didn't WANT to. I learned in retrospect that I was unmarketable for about 35 years. When I was a chorus boy I wasn't "boy" enough, when I was a drag queen people told me to stay in the bars where I belonged and when I was transitioning I wasn't woman enough. And so there I was talented but wanting opportunity. But starting a few years ago I was thought to be a little edgy and that seemed to check a desirable box. And then recently I became trendy. Something that people are fascinated by, so now the world flips upside down, in my favor.
AB: After 35-40 years.
HW: So, it's kind of bizarre and strange that people are "discovering" me.
AB: And now you've recently been appointed as director of the Venus Cabaret at the Mercury Theatre which is just reopening.
HW: I'm taking over the Sun-Tuesday nights at the Venus Cabaret with what we are calling the "Dark Night Series" which will present Variety.
The other days/evenings, Wednesday through Saturday will be a production run starting in September in the Mercury. We anticipate short runs booked from out of town as well as locally produced shows. An artist doing one or two week stands but also longer runs.
AB: Tell us more about your plans for the Dark Night Series at the Venus.
HW: On a set schedule we will host Variety, Sunday through Tues nights: Burlesque, Comedy, Band Jam nights, Karaoke, Open mic nights, Games. We will see a lot of things that are very familiar but also things with a twist.
AB: Variety is already a twist. It should be of interest to the tourist board. But will it be all kind of counter cultural?
HW: No, we are looking to the first week of each month to be luminaries, like Karen Mason, E. Faye Butler or if someone from Broadway in Chicago wants to do a cabaret night on their dark night, celebrity spots. The second and fourth week of the month will be cabaret, open mic and karaoke. The third week of the month will be comedy jam, burlesque and games.
AB: The grand opening will be Sept. 12, 13, 14. This is exciting. We look forward to more details. I want to thank Honey for joining me for this tremendous interview. You should check out https://www.youtube.com/user/honeywestchicago and follow her on social media, as well as following the Mercury Theatre website.