On a tropical August night, the Epiphany Center for the Arts welcomed a sold-out audience to the 2023 Emerging Artist Showcase.  As the room filled, the excitement elevated and the energy in the room was palpable.  Five finalists were preparing in the Green Room for what was expected to be a fantastic night.  And it was.
The finalists were culled from a list of submissions that was assessed by a panel of professional musicians; with the performers garnering the highest total points proceeding to the final showcase.  This quintet of performers was very evenly matched, making it a challenge for the esteemed panel of judges.  From their passionate stories to their unique voices and diverse backgrounds; this group shared soulful, comedic and inspiring renditions of wonderful classics tunes and even an original composition.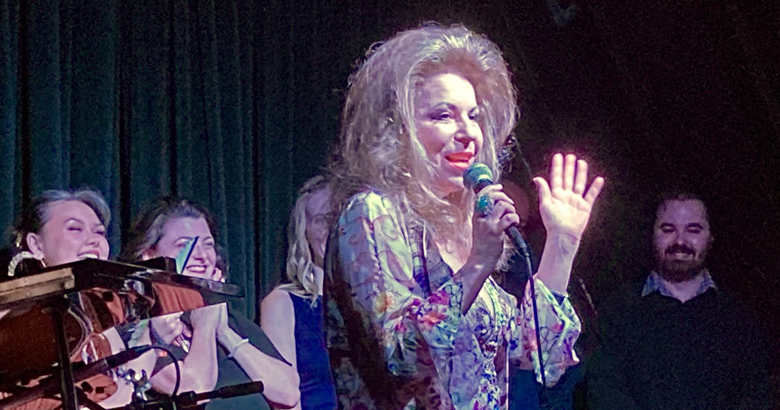 Denise Tomasello, Queen of Chicago Cabaret, welcomes entertainers to Emerging Artist Showcase
Powerhouse Siobhan Townsend kicked off the night with a stunning mini set of songs that chronicled her journey back to music, post pandemic.  Townsend's roaring finale of "Life of the Party" from Wild Party raised the roof and started the night off with a bang. The charming Jace McCloy, whose discovery of the fairer sex ranged from surprise schoolyard kisses to finding the love of his life in adulthood, sailed through his songs with sweetness and clarity.  His beautiful original song "New Life," which was inspired by his fiancée, left no dry eyes in the house.  Returning 2022 finalist, Emily Buckner, shone with her lyric soprano (and sassy mezzo) in a trio of songs, including "It's Not Where You Start," that showed her savvy perspective on life, love and friends.  Lush baritone, and Chicago native, William James, Jr, fresh off his performance in a professional production of Dreamgirls, offered songs of change and hope in his set.  His powerful performance of "Make Them Hear You," expressed his hope for acceptance for all.  Chicago-born AnaMae Rose Bances shared her stories of the strong Latina women who have inspired her on her life journey.  Bances' honey voice and seamless range showed her command of her craft and her passion for music, especially her Spanish interpretation of  the Latin Jazz classic "Spain."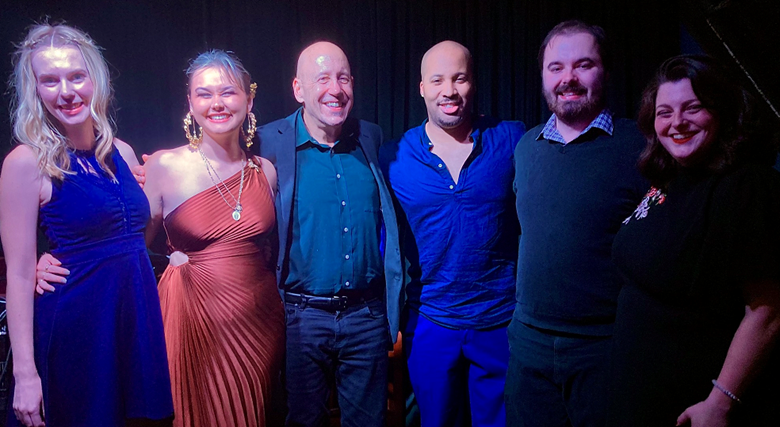 (L to R) Finalists Emily Bruchner, AnaMae Rose Bances, Music Director Howard Pfeifer William James Jr., Jace McCloy and Finalist Siobhan Townsend
While the judges deliberated, 2022 Emerging Artist scholarship winner LaShera Moore Ellis gave the audience a preview of her September 30 debut solo cabaret show "Lashera Moore Sings Aretha, which will also be at the Epiphany Center for the Arts.  This year's judges were: Sharon Carlson, Laura Freeman, Elisabeth Howard, Kyle Hustedt and Philip Seward.  In preparation for the event, all five finalists rehearsed with Music Director Howard Pfeifer and also met multiple times with their professional mentors – active performing members of Chicago Cabaret Professionals: Joan Curto, David Edelfelt, Hilary Feldman, Beckie Menzie and Daryl Nitz.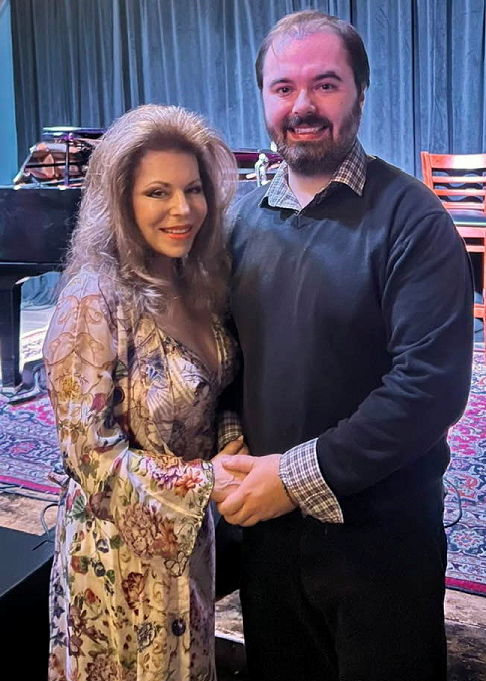 Denise Tomasello and 2023 Emerging Artist winner Jace McCloy
The evening ended triumphantly with the announcement of Jace McCloy as the recipient of the Denise Tomasello Cabaret Scholarship.  Hailed as a "Queen of Chicago Cabaret," Tomasello surprised everyone by announcing additional $100 scholarships to the remaining four finalists, proving yet again that she is dedicated to helping emerging Cabaret artists get a leg up.  Upon leaving the Sanctuary Room of the Epiphany Center that night, a patron enthusiastically stated, "I don't care WHO is in this next year, I'm going to be here.  This was top notch entertainment."  Thank you, sir.  Chicago Cabaret Professionals aims to please.
-by Ellen Winters Reynolds