The Chicago Paris Cabaret Connexion concluded a week-long conference with an inspiring concert at DePaul University School of Music. Among the two dozen performers who sharpened their vocal and performance skills during five days of sessions at Holy Trinity High School, 17 shared the stage for their Showcase Concert.  Dale Calandra directed the show with Howard Pfeifer at the piano. The music was enhanced by French pianist Patrick Pernet and accordionist Willfried Touati.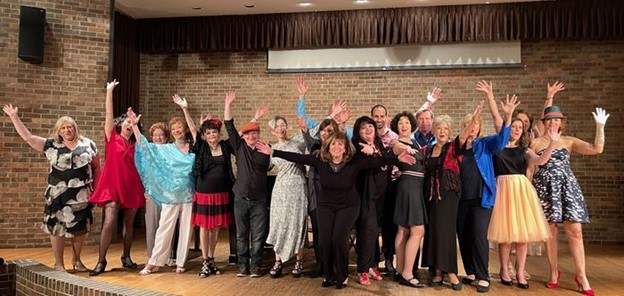 Photo Credit: Working in Concert
The workshops were conducted by a team of wonderful coaches including the Parisian singer Isabelle Georges, Elizabeth Howard, Elizabeth Doyle, jazz singer Spider Saloff, burlesque stars Kylie Bear and Hot Tawdry, and New York cabaret stars Jeff Harnar and Alex Rybeck. In addition to master classes, workshops started with a round table discussion about the "Diva in all of us." The panelists included Chicago cabaret luminaries, Denise Tomasello and Lynn Jordan as well as Michele Barbier, friend and former assistant to Josephine Baker.
Singers from France, Los Angeles, Las Vegas, and Chicago participated in various other workshops ranging from vocal techniques and physical movement, to developing your own perspective on the material, finding the humor and comedy, how to speak the language of your pianist, and communicating with the audience.
Participants were eager to say, "My skills grew with each session" "I really valued the opportunity to connect and establish new relationships with singers, musicians and artists." "I had such an amazing week. I was gifted with the teachings of some of the best cabaret performers and musicians in Chicago, Paris, and New York"
The entire group and Claudia Hommel of Working in Concert, the producer of the event, are already looking forward to the next Chicago Paris Cabaret Connexion to be held in France in 2023. For more information contact claudia@workinginconcert.org
−by Barb Smith
Barbara Smith is a well-known entertainer who's repertoire includes jazz, blues, folk music and cabaret. She is a participant in The Chicago Paris Cabaret Connexion and an active volunteer with Working in Concert.
Our next contributor, Dr. Susan Boldrey is also a participant in the Chicago Paris Cabaret Connexion. She is a French language teacher and has served the Connexion as a translator in Chicago and in France. She is an enthusiastic supporter of Working in Concert and cabaret. −Editor
Connexion 2022 Finale:
Josephine Baker (1906-1975) and the Legacy of Fervor
Bonjour!  Hello!
Here's a personal question: Have you ever read the last page of a book before even beginning it? Does the last stanza or the last chorus of a song stay with you for hours or even days? I admit that my answers to both of these questions are "oui" and "yes."
Well, if you attended the May 16, 2022, Chicago Paris Cabaret Connexion Finale concert, Joséphine Baker and the Legacy of Fervor, you surely sang or whistled "J'ai Deux Amours" all the way to and from l'Alliance Française de Chicago, our gracious hosts for this "magnifique" French cabaret show. Oui, just like reading the last page of a book or being "haunted" by the last stanza of a song, Ava Logan capped off our evening of Joséphine Baker's songs with the tune that we all know: "J'ai Deux Amours." My mother always sang this song to me, saying that it was indeed true for her daughter, "moi" as well.  Years later, I am convinced that she knew what she was talking about! However, unlike Joséphine Baker, I was fortunate. I didn't have to fight for my place in society where I could sing. My skin color wasn't denigrated. I wasn't kicked out of some of the most beautiful venues in town. Besides learning to sing and dance like an angel, Joséphine Baker – "la Baker" as she was known in France – would exemplify strength, conviction, and a belief in humanity.  Crossing the Atlantic proved to be her first step to showing the world – in English and "en français" – who she really was.
At the May 16th Chicago Paris Cabaret Connexion Finale, nine French and American singers shared their passion and their voices in a memorable tribute to "la Baker." Singing and swaying with the pianists Howard Pfeifer and Patrick Pernet and the accordionist Wilfried Touati, this "sold out concert" united our audience as never before. What did we hear? Whom did we see? And what did we whistle as we stepped  out of the theatre? If you were there, you are nodding your head now. If you missed this extravaganza (minus the real banana skirt!), you'll have a clear picture of Josephine's 2022 Chicago visit with this firsthand report.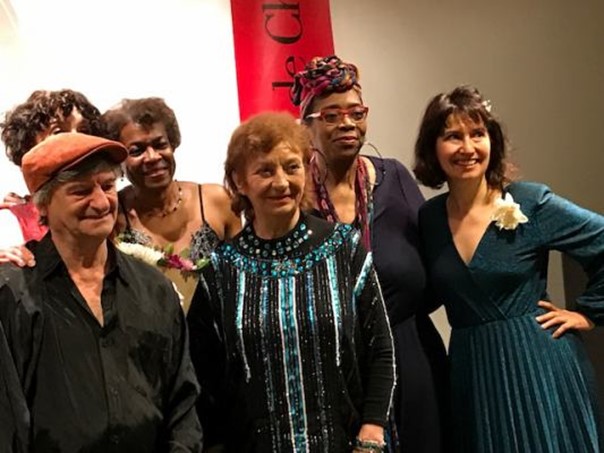 Photo Credit: Susan Boldrey
Claudia Hommel shares Joséphine Baker's creativity, stamina and dreams of uniting our world with our voices. After years of singing cabaret on stages in France and in the USA, Claudia has created "Working in Concert" a performing arts collaborative which unites Christine Steyer's "Bellissima Opera" (whose "opera "Future Perfect" premières June 23-26, 2022 in Chicago) with Black Voices in Cabaret, SongShop and the launch of Chicago's first Cabaret Week.  Innovation and vision emanate from Claudia's heart, brain and smile! All of us can unite to support and revel in this unique, multi-dimensional artistic undertaking.  Please reach out to Claudia Hommel at workinginconcert.org to get involved. Become a vital part of Chicago's and France's musical sounds!
This 2022 Chicago Paris Cabaret Connexion brought our French friends to our "City of Big Shoulders" thanks to Claudia's keen understanding of our human and artistic needs to breathe and marvel through songs.  Sincerest thanks to our supporters and volunteers!
MERCI à Claudia et à toute l'équipe qui y croit aussi. Thank you, Claudia, to you and all the team who believes in this project, too!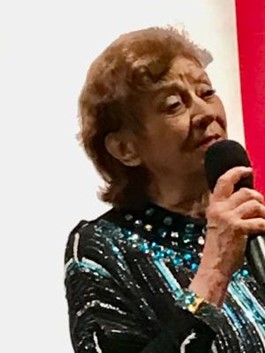 Photo Credit: Susan Boldrey
So, what happened on May 16, 2022 in our city? Our Chicago community eagerly welcomed Michèle Barbier from Paris. She's such a creative lyricist, poet, novelist and circus performer with eyes that search beyond boundaries.  Michèle was honored to be Joséphine Baker's personal secretary and close friend from 1969-1971. Sharing values of justice and a spark for creative development that would cross geographic boundaries, both women have changed not only the style and messages of songs but also the outlook and values of children and adults here and in France. Like Joséphine Baker, Michèle Barbier shares the hopes of bringing children of many races, religions, and languages together to create a more tolerant world. In her song "Au Nom de Dieu" by Michèle Barbier, she recounts Joséphine's dreams and hopes of religious equality and love. The Rainbow Tribe was Joséphine Baker's dozen adopted children who were loved and nurtured by their hard-working mother. Her dreams were as high as her dancing legs on the stage. No stage lights could outshine her!  Her tenacity was indeed sforzando, her tempo was presto, and her audiences grew to love her!
The Chicago Paris Cabaret Connexion's Finale concert began with the song "Joséphine" (Patrick Pernet and Michèle Barbier) which proclaims hope – especially hope for peace above all. Next Ava Logan swayed us with "Bye Bye Blackbird" leaving images of blackbirds flying overhead. Claudia Hommel's scarlet hat enticed us with "Insufficent Sweetie" which then led us to the softness of Irving Berlin's "Always" sung by Christine Steyer. How does one follow these songs?  Ooh la la!  The audience turned to Evelyn Danner who has portrayed Ella Fitzgerald with all the jazz talent that Chicagoans adore. We felt chills as she sang "Blue Skies."
Returning to Chicago via Burkina Faso and Paris, prize-winning singer, flutist and filmmaker, Clotilde Rullaud , appeared on stage. During the Connexion, Clotilde's master classes focusing on correct breathing left all singers transformed. Clotilde seduced the audience with "I've Got You Under My Skin" which is Joséphine baker's sensual song "Vous faites partie de moi." After a dynamic presentation at the Chicago Paris Cabaret Connexion Round Table on May 9th, Chicagoan Lynne Jordan dazzled the audience with "If I Can't Sell It, l'm Gonna Keep Sitting On It." Nobody sat still as this "Great Big Diva" electrified the stage.
The atmosphere became strikingly quiet when Mylène Launay from La Rue Mouffetard in Paris sang her "Les îles Hawaii." Following our dreams of these Pacific islands, Michèle Barbier led us back to Paris with her "Quand je pense à ça." This song portrays Joséphine Baker's eternal struggle against racism, antisemitism, and all types of discrimination. It is a fervent appeal for peace among all people. "Au Nom de Dieu" once again shares Joséphine's deepest dreams of equality for all people. The music is by Patrick Pernet, France's top composer/arranger who brings the creative poetry of Michèle's to a new height. At one with the piano, his fingers seem to sail across the keys as he "pulls" every sound from "somewhere."
In summer 2021, Christine Steyer and Jean-Claude Orfali, Parisian pianist from Le Lapin Agile in Montmartre, created the sensual song "Coupe de Champagne." The flow of the Champagne and the flow of the Seine River linger in the lyrics and melody which stay in our memory and awaken dreams that, hélas, we thought we'd forgotten. Just as we wanted to close our eyes and drift along with Christine's operatic soprano voice, Evelyn Danner appeared before us to sing Cole Porter's "Miss Otis Regrets." The twinkle in Evelyn's eyes enhanced her "spot-on" cadence as she reminded us all that "Miss Otis Regrets…!" Next, the graceful Maryline Rollet quietly enchanted us with Joséphine Baker's "De Temps en temps." In contrast, Lynne Jordan returned to make us laugh with her rendition of Porter Granger's "One Hour Mama." As we exclaim "en français, "ohlalalalala!" Let's now catch the ironic segué with Mylène Launay" singing "Si tu t'imagines" made famous by Juliette Gréco (1927-2020). Juliette Gréco made her Parisian cabaret début in 1949 with this song. A French singer whom we all know, Edith Piaf, left the eternal legacy of "La Vie en rose" to thousands of singers and lovers around the world. Maryline Rollet was the lucky one to represent all of us with this famous song during the 2022 Chicago Paris Cabaret Connexion. Wilfried Touati's accordion swept us off our feet…Oui, "La Vie en rose…"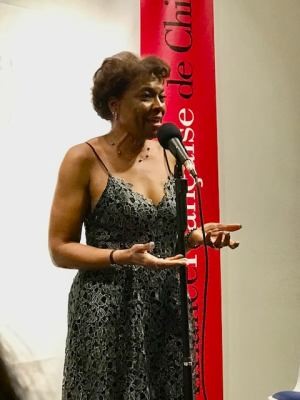 Photo Credit: Susan Boldrey
As our magical evening was reluctant to draw to a close, we were once again entertained by our Connexion founder, Claudia Hommel. She sang "Dolly 25" by French actor/singer Ricet Barrier. Her scarlet hat and dance steps led us to the final song of our Chicago Paris Cabaret Connexion festival made famous by Joséphine Baker, "J'ai deux amours," "Two Loves have I." Again Ava Logan, top Chicago cabaret singer took hold of our souls and our dreams and led us each to the personal spot where we have our "two loves…". Is your love Paris, too?
MERCI BEAUCOUP! I hope to see you in 2023 in France!
−by Dr. Susan Boldrey