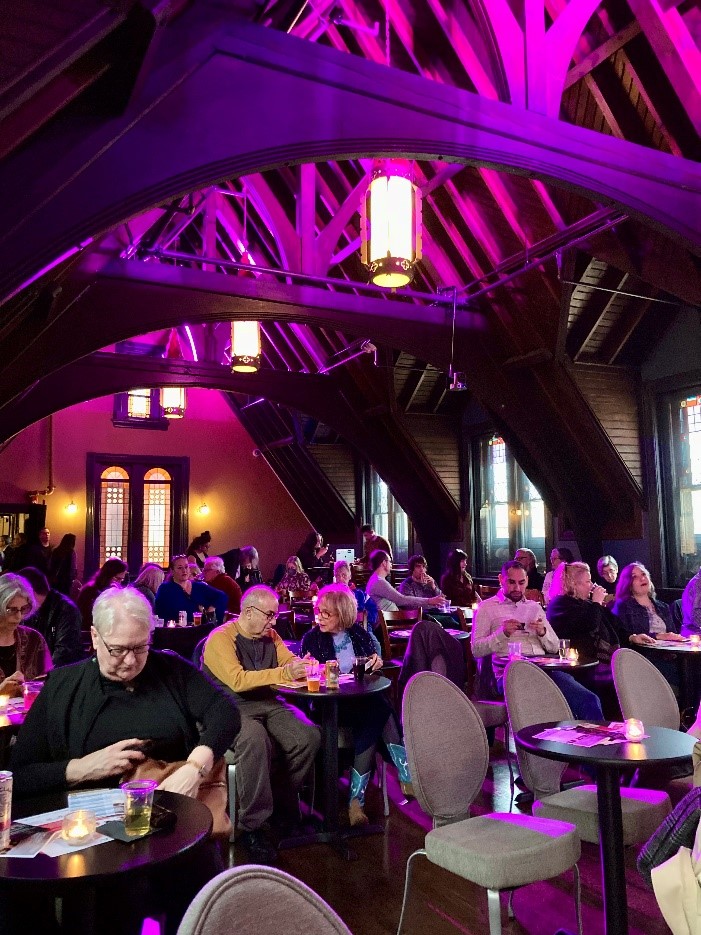 Photo Credit: Charles Kouri
Yes, the variety arts are alive and kicking in Chicago. After a delay of nearly two years, Chicago celebrated a week of cabaret from May 6-16, 2022.  In a kick-off event that was a veritable sampler of cabaret at its finest. the show was a collaboration among a consortium of cabaret organizations featuring a multi-faceted revue of the art form.
Held at the Epiphany Center, a new arts and entertainment complex on "the artsy end of the west loop," the venue was one of the first to reopen after Covid shutdown. Within the complex, the cabaret-style live music venue dubbed The Sanctuary is a beautiful new room ideal for all styles of live music. Epiphany warmly ushered in Cabaret Week the night of Friday May 6 as part of its avowed purpose of bringing Chicago together around creativity and entertainment.
Opening with a witty and harmonious set of story-songs, Acts of Kindness Cabaret sent up Shakespeare in Loesser's "Hamlet," spoofed mass murder with Michael Brown's "Lizzy Borden," and rendered heartfelt sentiment around helping to parent relatives' kids in "I Won't Mind" by Jeff Blumenkrantz.  A real stand-out in this well calibrated and inviting opening set was a very amusing retelling of how one member didn't get to meet his idol Barbra Streisand to the tune of Jabara and Robert's "Enough is Enough."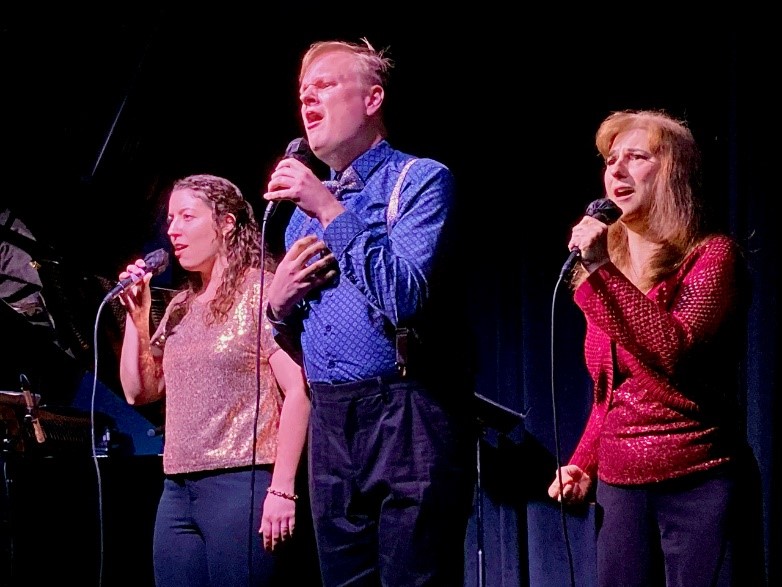 Photo Credit: Charles Kouri
A trio of singers led by Hilary Feldman with Adam Hibma and Nikki Krzebiot, entertained with verve and lovely close harmony with music director Andrew Blendermann, ever personable, at the keyboard. Acts of Kindness Cabaret is a not-for-profit which provides professional entertainment for charities for fund raising. The latest show, selected here, rose to the usual standard of excellence.
Next, The Feathered Beaus from the Cabaret Project rocked the house with their rich and varied renditions of contemporary pop, reminding us that cabaret always has been based on popular music whether show tunes or tin-pan alley standards of yore. And why not today's pop hits? In their set, pop music of today is super-charged by the over-the-top male trio with brilliant arrangements and cleverly selected repertoire all served with a sensual and worldly gay sensibility, married to excellent musicality.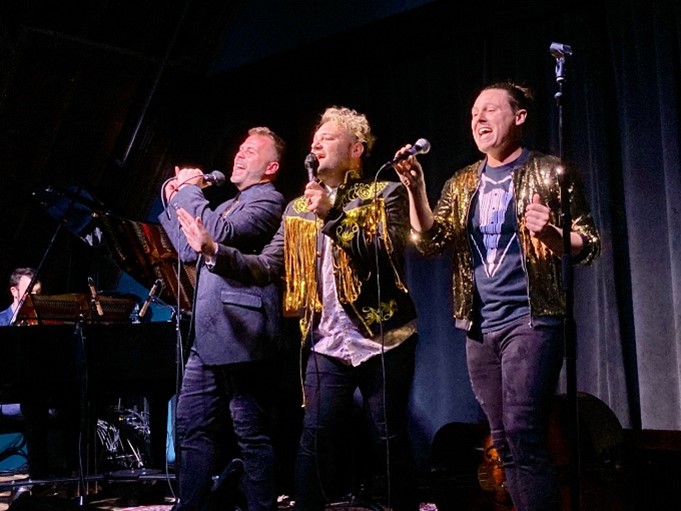 Photo Credit: Charles Kouri
There was Adele's hit "Send My Love (To Your New Lover)" paired with the Gay Pride anthem "It's Raining Men" for a start. The much-lauded "Dance Monkey" by Ausie singer/songwriter (and busker) Tones and I, evoked the sheer joy of singing and dancing for a living. Bonnie Tyler's cry from the heart "Holding Out for a Hero" repurposed from the films Footloose and Shrek 2, seemed both epic and ironic.
A wild Gaga medley called "Pop of Glorious Romance" alluded to such songs as Lady Gaga's hits "Bad Romance," "Born This Way" and "(I Want Your) Stupid Love," among others. This was followed by a beautiful three-part rendering of Sondheim's "Being Alive" and "I Wanna Dance with Somebody," 'dance' being decidedly metaphoric.
The Beaus, Kyle Hustedt, Kyle Russell, and Olin Eargle, brought mashups and medleys to dizzying heights of creativity. At the keys, Justin Harner was outstanding. Kudos to the collaborators responsible for arrangements, so crucial to bringing pop material to cabaret: Dustin Struhall, Justin Harner, Michael McBride and Jimmy Morehead.
In the next set, Working in Concert, led by Claudia Hommel, celebrated the Chicago Paris Cabaret Connexion with artists "direct from Paris." Claudia explained how she loved to take us to Paris, literally and figuratively, with "Bonjour Paris" (adapted from the film version of Funny Face) and then introduced the European artists. With the added flavor of the accordion provided by Wilfried Touati, joining Andrew Blendermann at keys, Mylene Launay performed the 20s classic "Mon Homme" with what I took to be a Gallic turn ala Mistinguett, and charming Maryline Rollet gave us Claude Nougaro's whimsical 1973 adaptation of "Girl Talk" by Neal Hefti from the film Harlow. There was an outstanding rendition of Michel Emer's classic torcher "L'accordioniste" by Michele Barbier who was joined at the piano by Patrick Pernet. Isabelle Georges gracefully stole the show with a commanding (and very fun) "Les Poitrines" by Cole Porter, inviting tourists to be clasped to the bosom of gay Paris. Isabelle and company joined Claudia in a finale of "C'est Si Bon," composed in 1947 by Henri Betti, whose grandson OIivier was in the audience and was introduced from the stage.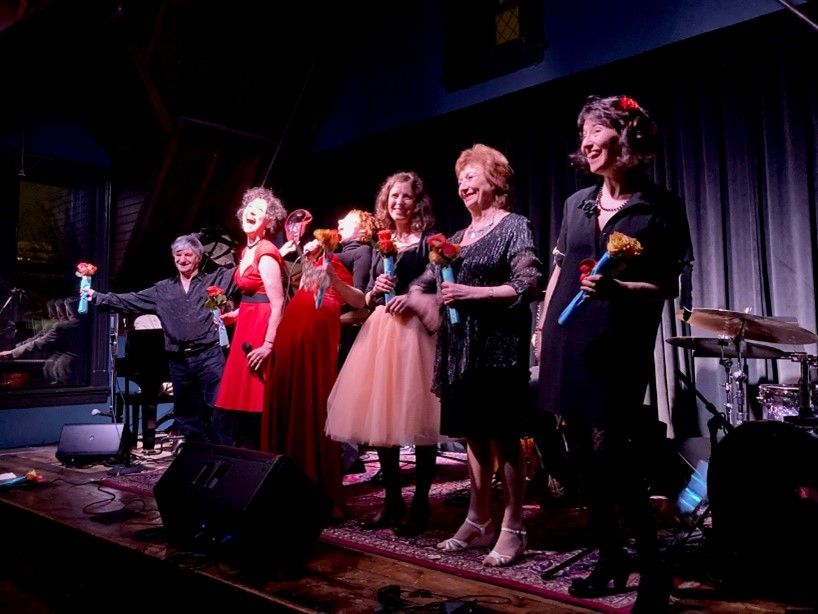 Photo Credit: Charles Kouri
The Connexion is an on-going cultural exchange between the two cities. The French visitors were warmly received as old friends. We had seen them all before as recently as 2018 with the welcome addition of Issabelle Georges. During Cabaret Week, visiting artists and Chicago-based artists will be studying and performing together in workshops and concerts as they have before, exploring a renewed mutual heritage.
In a climactic set Anne and Mark Burnell sent us over the moon with their jazz infused set of spectacularly varied styles of song, from blues to originals, to vocalese, a Gershwin standard, to Lerner and Loewe. Mark Burnell at the keyboard is always something special but he especially shines on occasions like this. To say Anne Pringle Burnell is versatile is an understatement. Given a number like "Blues in the Night" there's no one finer. Her "They Can't Take That Away from Me" by the Gershwins was heart tugging in context of current events. Her Billboard-recognized original composition "San Juan" was a welcome addition, as was her clowning with the Feathered Beaus when they joined her on stage for Arlen and Mercer's "It's A Woman's Prerogative." Perhaps the greatest challenge for a jazz vocalist is the performance of a vocalese like Clifford Brown's "Joy Spring" where poetry is set to jazz. First sharing what the poetry meant to her, Anne acted the lyric of "Joy Spring" as a beautiful spoken-word piece; then, when the ensemble chimed in with the jazz, the vocalese soared. This was a performance to cherish and remember fondly.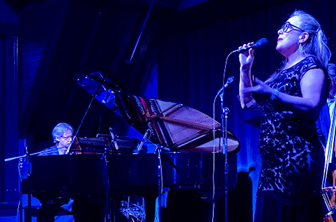 Photo Credit: Charles Kouri
Back in the day, I remember complaints that Lerner and Loewe's work is hard to jazz up. Not so with the Burnells! They topped off their set with "I Could Have Danced All Night" in a Latin jazz beat and then closed with a sprightly "Lusty Month of May," which left the audience quite jazzed, both tra-la-la gay and happy.
Representing Chicago Cabaret Professionals, the Burnells (who are founding members of CCP with Anne Burnell serving currently as President) with their collaborators (Mark Sonksen on bass and Darren Scorza on drums) were just top-drawer, providing an exemplary finale to an evening's entertainment.
The sold-out kickoff was also live-streamed, which was good news for friends, family and fans outside Chicago. The kickoff drew any number of dignitaries and super fans.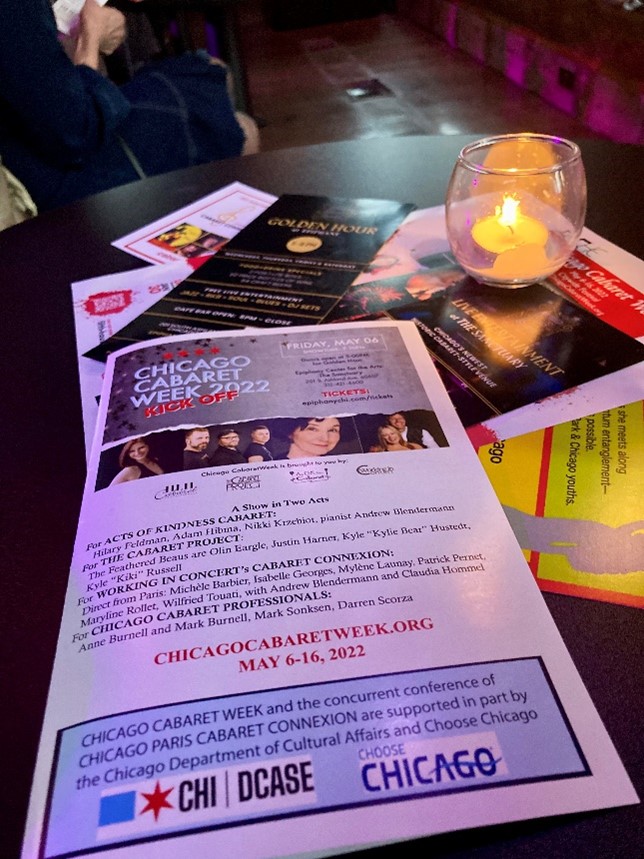 Photo Credit: Charles Kouri
In the audience were members of a song composer's family, cabaret producers, owners of other venues and the leaders and many friends and supporters of Chicago cabaret including CCP's board and Circle of Song.
What a great way to begin Cabaret Week!
−by Daniel Johnson