On October 17 our Gala glowed in the light of innovation and accomplishment. With a photo essay in Cabaret Scenes magazine Carla Gordon proclaimed, "The Stars Come Out At Night." Our president Anne Burnell described in Broadway World a Gala with "a phenomenal lineup of local and national performers singing the Great American Songbook, jazz, blues, pop and more! We're also very excited to be hosting the event in the glorious Epiphany Hall at Epiphany Center for the Arts, one of the new performance spaces in the heart of Chicago."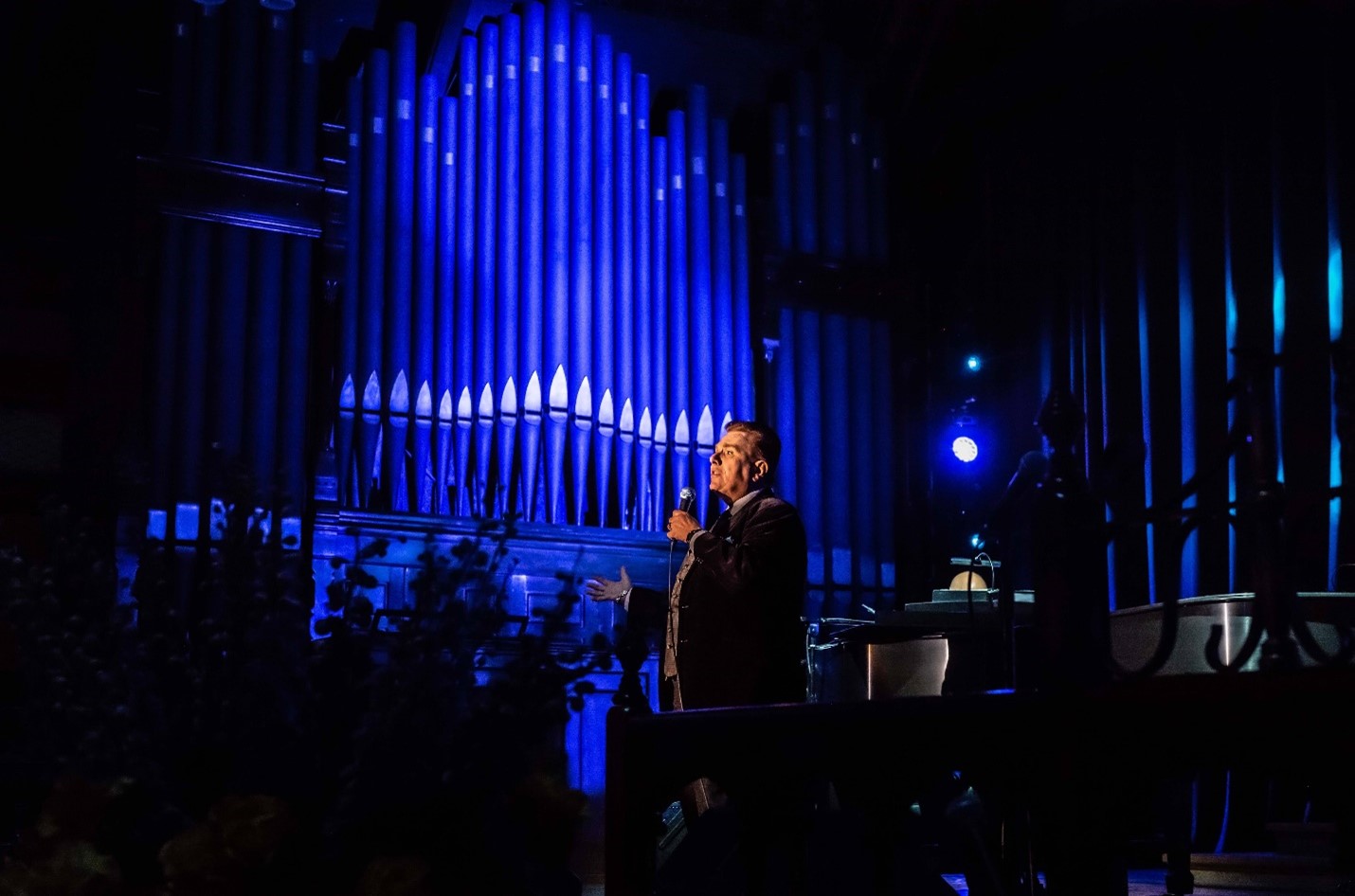 Russ Goeltenbodt warms Epiphany Hall stage with "Once in a Lifetime"
When Chicago Tribune music critic Howard Reich announced his retirement back in 2021 those of us interacting with the press held our breath. With the largest circulation of any paper covering the Mid-west, esteemed journalist Reich had been an enthusiastic supporter of cabaret and the efforts of our organization for many years. How would we manage without his voice in the press? And in the face of epochal changes in journalism generally, we wondered if the "new press" would notice our art form. Well, it has.
Laura Hawbacker, now the editor of Masks Literary Magazine, wrote for the Columbia Chronical a vibrant portrait of our Gala evening:
"Beneath chandeliers hung from the vaulted ceiling of the Epiphany Center for the Arts ballroom, women in floor-length evening gowns and fur boas circled candle-lit tables alongside men in tuxedos. On stage, cabaret performers oscillated between Broadway, blues, barbershop, jazz and the Great American Songbook. One prevailing element shared by many guests and performers that evening — sequins."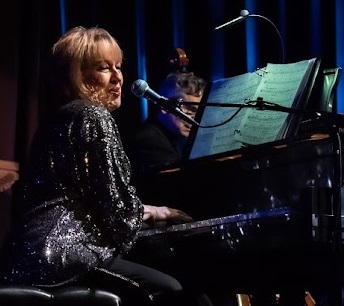 Carolyn Wehner in "I Won't Dance" medley
The report goes on, "During his medley of "I Won't Dance" and "I've Got Rhythm," performer Paul Motondo pointed to his sequined footwear. "I wore my sparkly shoes!" he quipped to his onstage partner, Carolyn Wehner.
"I wore my sparkly jacket!" Wehner quipped back from her seat at the piano."
In addition to capturing the glowing atmosphere, Hawbacker landed an interview with our headliner:
"There's no fourth wall," said the night's National Honoree Jeff Harnar. Harnar is a multiple award-winning New York director, nightclub singer and recording artist who grew up in the Chicago area.
"In a Broadway show, there would be the illusion that the audience is not there. Here, the audience is the scene partner," Harner said. "Our work isn't complete; there isn't a complete molecule until the audience is here. It's totally informed by that interplay, so it's magical."
The Chronicle reporter went on to observe: "Cabaret performances encompass many genres, including gospel, pop, burlesque, dance and more. Performers often interrupt songs mid-way to patter with the pianist, do call and response or crack jokes with the audience.
Historically, cabaret has been an open space for boundary-pushing avant-garde styles that reacted to trends, often utilizing risqué lyrics and double-entendres to energize the audience, according to music resource site AllMusic."
Carolyn Wehner in "I Won't Dance" medley
Hawbaker continues, "Cabaret's bawdy origins were on display during performer Lynne Jordan's blues piece, "It Takes a Great Big Woman" — or as she put it, "the Big Fat Woman Song." Jordan accompanied lyrics like, "It takes a great big woman with massive breasts" with a chest shimmy and an extended side leg raise, all while wearing a top hat and sequined evening wear.
Later, during a Doris Day medley, performer Daryl Nitz joked with a few audience members in the VIP section who had begun singing along. "Don't sing it with me, b—-es!" Nitz said with a laugh. He turned to the rest of the crowd. "They're giving me harmony over here."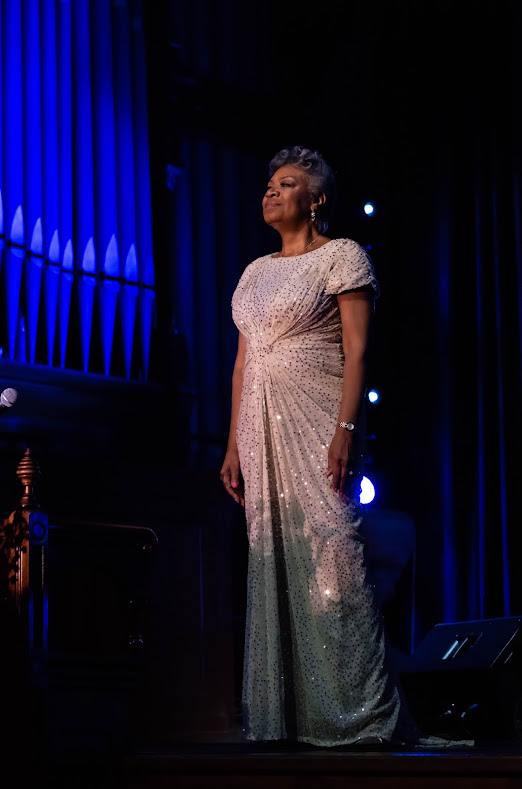 Cynthia Clarey about to deliver "See Me As I Am"
In one of the evening's main innovations, in addition to traditional Gold Coast and National Awards, we now also honored those whose contributions here are promoting the art form, in various ways.
As reported by Stephi Wild in Broadway World:
Charles Troy, an acclaimed musical theater historian and graphic designer, received the Chicago Cabaret Lifetime Achievement Award for creating and presenting more than 50 multi-media shows on theater history since 2006.
Cynthia Clarey, a celebrated opera singer who has appeared in major roles in the important opera houses and concert halls of Europe, received the Chicago Cabaret Advocacy Award for her cabaret show "Bridge Over Muddied Waters," drawing on her personal experience as a black woman growing up in the South in the 1950s.
Wydetta Carter, an accomplished stage actor and performer, and the host of Cabaret Beat, an online interview series of cabaret artists, received the Chicago Cabaret Service Award. Carter serves as First Vice President of Actors' Equity Association and is the highest-ranking Black woman in the history of Equity.
Tommy Hensel, a multi-talented director, actor, and arts presenter, received the Chicago Cabaret Presenter Award. Hensel is currently Senior Director of Performing Arts at Elgin Community College Arts Center and also serves as Chair of the Illinois Presenters Network.
LaShera Moore, a versatile singer, lyricist, and actor, was the 2022 Chicago Cabaret Emerging Artist, and is recipient of the Denise Tomasello Scholarship.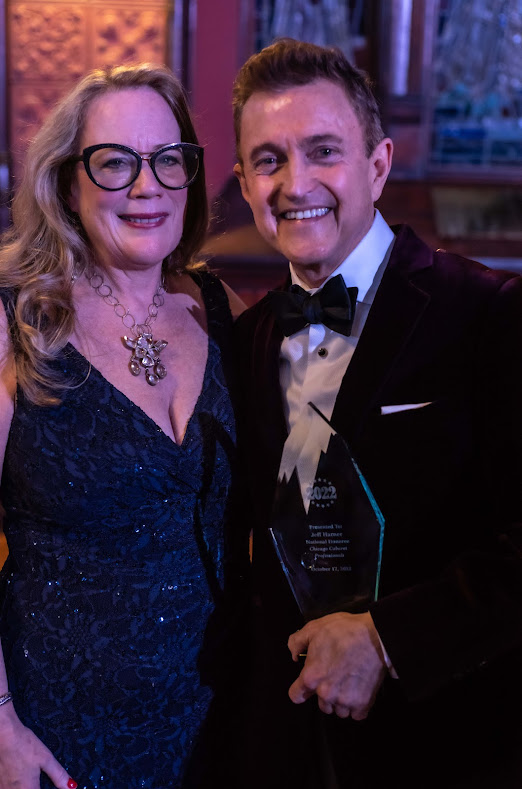 President Anne Burnell and Honoree Jeff Harner 2022 Gala
The Broadway Word reporter goes on:
"A highlight of the Gala was a performance by Jeff Harnar, an award-winning New York-based cabaret performer and director, who received the Chicago Cabaret Professionals National Award. Jeff opened his set with a song from his is new CD, "I Know Things Now: My Life in Sondheim's Words" – and then surprised the audience by announcing that the CD had just been selected for the Grammy's Preliminary Nomination Ballot in the category of Traditional Pop Vocal.
Other Chicago Cabaret Professionals award recipients included Laura Freeman, Gold Coast Honoree, and a former president of Chicago Cabaret Professionals. She dazzled the large audience with a trio of songs: "They Call the Wind Maria", "On a Bus to St. Cloud", and "I Love a Film Cliché.""
Our Public Relations committee is proud that our efforts have been rewarded with such coverage.
−by Daniel Johnson