Our creative community has been through so much since 2020 when we first announced Cabaret Week in these pages. What we planned then and what we have just witnessed has grown and been refined, but one thing is sure: the confidence that our city placed in us by including cabaret in the Year of Chicago Music was not misplaced.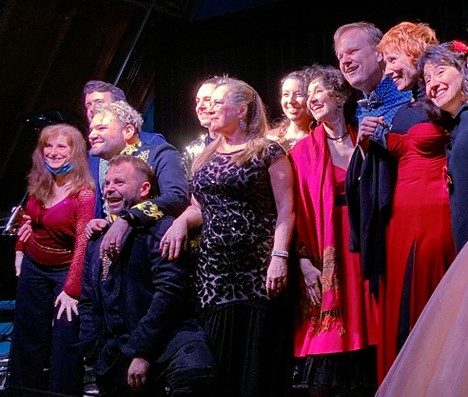 Photo Credit: Charles Kouri
The week commenced with the Kickoff concert on Friday, May 6, 2022 observed in our Center Stage story in this issue. Saturday night there were two events, the Feathered Beaus who acquitted themselves so brilliantly in the opening concert, played a full show at Drew's on Halstead, where the competition from the noisy crowd did not allow close attention to the lyrics being sung. However, the showmanship of the trio of singers saved the evening for those who came to listen with rapt attention, Kylie Bear contributed his wry and debonaire leadership, Kiki transcended with his audacious belt and Olin simply charmed with his impish and loveable grace.  As the evening proceeded the Beaus got better and better as the crowd thinned the material shone and we were entertained until the final encore.
While it was not possible for this observer to attend every event, it seems to me Davenport's Cabaret made an astute choice in presenting the novel Jackie Smook, Under Your Skin also on Saturday. Reportedly, Ms. Smook is a practitioner of long-form improv and stand-up comedy. Her show, a hybrid of comedy and song, which was originally designed to play Second City, made its debut at Davenport's and will play there again on June 25, 2022. For more info: UNDER YOUR SKIN Tickets, Multiple Dates | Eventbrite.
At noon on Sunday, May 8, Le Piano hosted the Judy & Liza Mother's Day Show. This offering held a lot of interest for those of us following the wonder that is Chicago's indigenous theater scene. As profiled in the Chicago Tribune and Broadway World, multiple award-winning actress Nancy Hays played Judy Garland in Pride Plays production of Boy from Oz to much acclaim. She subsequently worked with music director Robert Ollis to produce a show for her mother/daughter cabaret team (with daughter Mary Heffernan}. Their Judy, Liza and More is based largely on the famous London Palladium concert and features vocal arrangements by Robert Ollis paying tribute to the London mother/daughter original.  Chicagoans know that Nancy Hays leads a family of musicians, "The Heffernan's," delighting local, regional, and national audiences with their multi-talented entertainments.
As observer Charles Kouri reports, "for more than 14 years, SamaSama Project has been showcasing a fusion of Filipino traditional folk and contemporary music at many notable venues and events around the Midwest" and is widely regarded as one of the top bands in Chicago's Filipino American community. On the evening of Sunday May 8, the six-piece band performed a thrilling two-hour concert titled Kabaret Philippines at The Hideout, the iconic and eclectic music venue located in the Elston Avenue Industrial Corridor.
The group was led by Baron Lloyd Cabalona, a versatile musician and arranger, and Lou Ella Rose, a TV and musical theater actress. The other band members included: Ran Sevilla: rhythm guitar and vocals; John Kniker: lead guitar and vocals; Giga Yanong: saxophone and bongos; and Ernie Luna: bass guitar and vocals.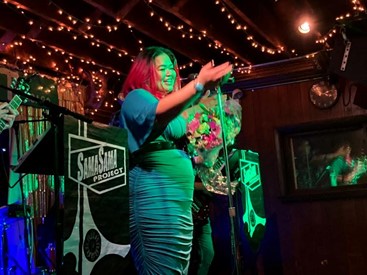 Photo Credit: Charles Kouri
Inspired to promote diversity through music, SamaSama Project (SamaSama is translated as "united, together") truly lived up to their name, creating a blend of Filipino folk, rock, ska, and Latin music, inspired by a 1970s musical movement called the Manila Sound. The set list included classics, such as "You Know I'm No Good," newer tunes, such as "Tennessee Whiskey" by Chris Stappleton, and an original song "Fresh Bagoong," about a popular Filipino condiment.
I'm disappointed not to have had the energy to attend Fulton Street Collective's venturesome presentation of Clotilde Rullaud with Christy Bennett's Fumee Duo on Tuesday evening. Having heard Clotilde before I know she is simply extraordinary and her avant garde explorations are always welcomed by the connoisseur. I hear it was remarkable.
One of the most eagerly anticipated offerings of the week was cabaret star Joan Curto singing Sondheim, presented on Wednesday evening at the Cliff Dwellers Club. This would be one of the first times she revisited Everybody Says Don't since the renowned composer made his transition, becoming, in Curto's phrase, "her giant in the sky."
The singer leaned heavily on Sondheim's less esoteric material, being a self- avowed lover of musical comedy, delighting her audience with favorites like "Being Alive," "Can That Boy Foxtrot," "Another 100 People," and "I'm Still Here."
As Hilary Feldman tells us, after a nearly 3-year absence, Paul Motondo made his return to the stage on the evening of Thursday, May 12, at Venus Cabaret Theatre with a triumphant A Baritone on Broadway. The opener, was a whimsical parody of "Lullaby of Broadway" and set a nice tone for the show. He followed this up with three ballads, followed by stories of his introduction to musical theatre as a boy, his later years as an actor, and funny anecdotes about auditioning. The levity of these stories was reflected well in the music
The highlight of the show was Paul's rendition of Maltby & Shire's "If I Sing," a tribute to the father who gave him music. With the recent loss of both his parents, it was an especially poignant moment for Paul. It was a privilege for the audience to witness the perfect imperfection of Paul's vulnerability.  The number received the strongest applause of the night.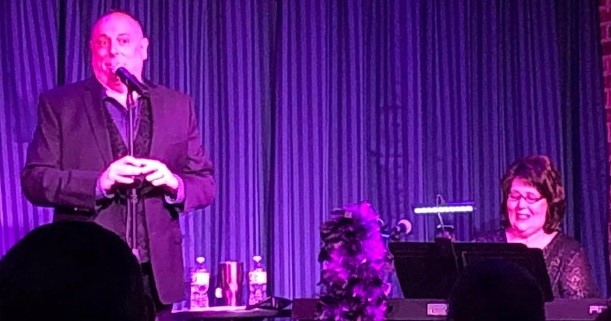 Photo Credit: Paul Motondo
A humorous highlight came in the form of "It's Not Just for Gays Anymore" from The Producers. Aside from the fact that the show could benefit from a little more lightness in the opening segment, A Baritone on Broadway is, overall, a well-crafted, entertaining show, and Paul Motondo expertly weaves his way through its performance.
Greta Pope's Paris Noir: American Jazz in Paris lit up the Eagle Room at the Polo Inn in Bridgeport on Friday May 13. Adept at bringing a show lounge feel to cabaret, Ms. Pope gave a very personal reflection on how the Paris Noir period affected her and her music. It was a dynamic evening touching on a wide repertoire ranging from the songs of Fanny Brice and Sophie Tucker to Billie Holiday and Edith Piaf. There was a generous helping of delish Cole Porter plus a nod to Josephine Baker. The meal and hospitality at the Eagle Room was supurb.
The Chicago Paris Cabaret Connexion Showcase Concert, demonstrated in many instances the skills learned in master classes and workshops during Cabaret Week, (see: link) exemplified by the performances of Staci Kelly in "My Heart was Set on You," Jonathan Lewis' "You Can Get Away with Anything" and Carman Bodina's arresting "My Own Space."  The audience consisted largely of friends and family plus a generous representation from the followers of SongShop who delight in experiencing the progress of aspiring artists, in this case singers from around the country and abroad.
I don't know if you had to knock three times and tell them Joe sent you, but for those who climbed the stairs to the intimate Newport Theatre to see Peek-Easy on Saturday night, I hear the atmosphere was as hot and steamy as only Chicago's burlesque performers can make it. My spy reports the host for Peek-Easy, Hot Tawdry, welcomed everyone (in a bustier) and delightfully explained how the evening was going to work and what the signals were for communicating consent, what a tease.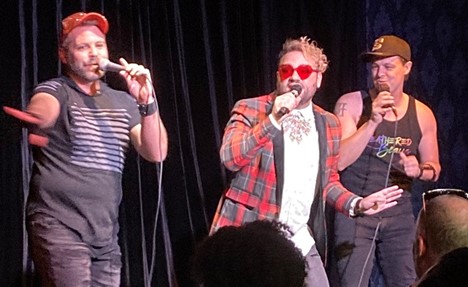 Photo Credit: Charles Kouri
The Feathered Beaus opened the show singing a harmonious and fun hit "I Really Want It," and Boobs Radley followed with Sophie Tucker's signature song "One of These Days," holding a mic while stripping, which was quite amazing. Drag queen, Vivian DeJour really riled up the house lip-synching beautifully Whitney Houston's hit, "I Wanna Dance with Somebody" and Eve La Fever finished the set by playing with whipped cream in various ways as she stripped to pasties!
There was much audience involvement, and the second act had everybody signing along with the Beaus' "Party in the USA." Vivian's high-kicking and dancing from the stage into the audience demolished the house. Concluding the show was well known drag queen, Coco Sho-Nell with her larger than life show girl presence lip-synching "And I Am Telling You" from Dream Girls. Our spy thought the show was sexy, funny, and just what many people, straight or gay, could use after being pent up for two years.
Beverly Arts Center hosted community member Madeline Morgan with her take on Sarah Vaughan in Sing Sassy for two performances on Sunday. From a well-known South-Side musical family, Ms. Morgan's performance was well attended and demonstrated how roots in the community can serve cabaret. The room and the hosts were very gracious and accommodating, well worth the trip to 111th Street.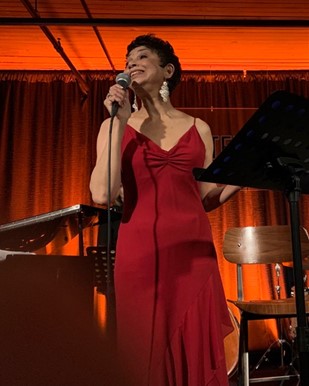 Photo Credit: Bobbi Wilsyn
Bobbi Wilsyn: Stormy Weather, A Tribute to Lena Horne was climactic in every way possible. Both the artistry of Ms. Wilsyn and the subject matter, delved deeply into the career and creative achievement of Horne. We are reminded that she took refuge in cabaret when mainstream entertainment proved unready for her genius. We relived Horne's frustration and anger, and we felt damn proud that cabaret was ready for Horne when she needed it most. We are relieved that she finally triumphed over adversity achieving (almost too late) the acclaim she always deserved.
This was a dramatic and exemplary exploration of the lady and her music. Wilsyn excelled through-out and gave proper credit to her excellent jazz ensemble, equal to the challenge, giving a rich and rewarding cabaret experience. Each song from "Don't Care What People Say" to "The Lady is a Tramp" to "Yesterday, When I was Young" was infused with jazz styling and even the narration was backed by expressive music. What a successful collaboration she achieved with her band Miguel de la Cerna, Musical Director and keyboard, Marlene Rosenberg on String Bass, Harold Morrison on Drums, Larry Brown Jr. on Guitar and Jarrard Harris on Sax.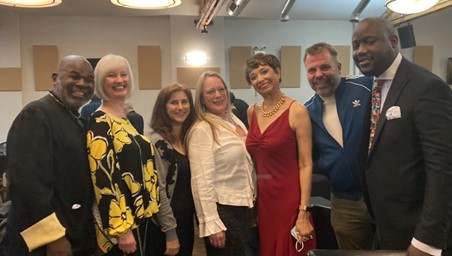 Photo Credit: Anne Burnell
Norman Bolden and the Haven entertainment center notches another achievement in bringing live music back to storied 43rd Street.
In summary, Cabaret Week demonstrated the range and depth of what is available to audiences in Variety Arts in Chicago. Whether Jazz styled, supper club entertainment, burlesque, cabaret revue, avant garde performance art, or the Great American Songbook styled cabaret, Chicago night life has it all.
−by Daniel Johnson