Accompany Me: Iconic Singing Pianists (August 6 at Rhapsody in Rogers Park) celebrated Beckie Menzie's favorite musical icons who have made their careers singing, songwriting and performing at the piano. Artists such as Carole King, Billy Joel, Nat King Cole, Stevie Wonder, Lady Gaga, and Alicia Keys were ostensibly the subject of the program.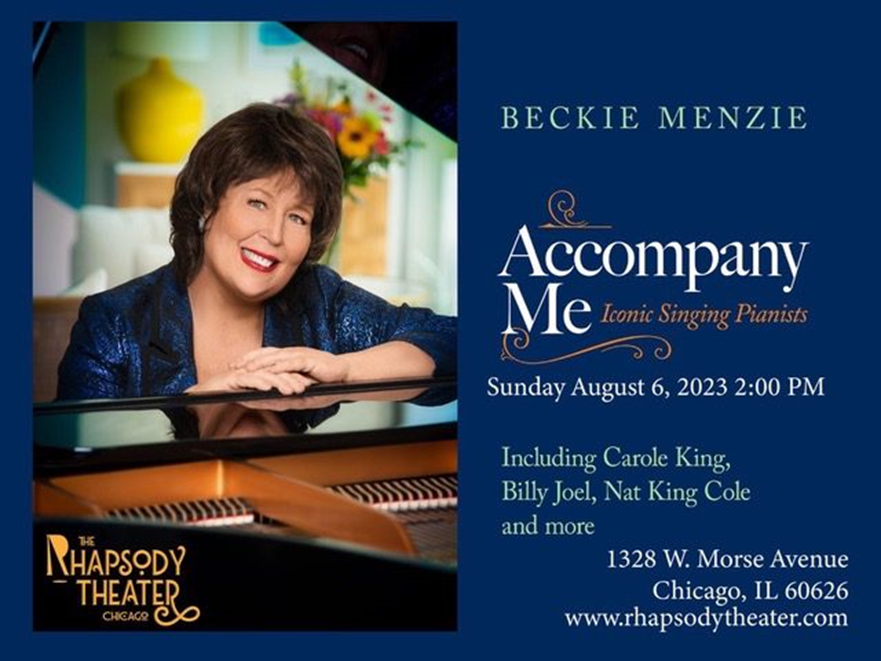 But even more so was Menzie's love affair with the piano and her 35th Anniversary entertaining at the piano in Chicago cabarets and beyond.
Her fans know her as a virtuosic performer. When I first began to follow her career, she astounded me by sampling Rhapsody in Blue as a piano break accompanying Laura Freeman singing a Gershwin tune, a moment of ostentation which I'll always remember.  Howard Reich, long time music critic of the Chicago Tribune never said it better when he observed that "Spirit invades Menzie's art which pairs uncommonly sensitive vocal lines with a sweeping, sumptuous approach to the keyboard." In this 35th anniversary celebration of making music professionally in Chicago she was joined by her life partner, percussionist Irwin Berkowitz. His presence and creativity lent the performance quite a romantic dimension.
I was present ten years ago for Menzie's 25th Anniversary celebration. That was the first time I heard tales of her legendary entertaining at Gentry. At this year's anniversary, I met up with friends who have followed her since the Gentry days and still follow her today. Known locally for her outstanding open mic music direction from Gentry to Petterino's, Beckie is one of Chicago's most sought-after accompanists and music directors. The sold-out show at Rhapsody was packed with Menzie-loving fans and appreciative followers.
Readers should note she has also been much beloved in a long-time musical partnership with Tom Michael (Beckie and Tom) and since 2010 with Laura Freeman and Marianne Murphy Orland in another popular musical partnership Girls Like Us.
I rushed to get tickets for Accompany Me knowing how special it is to enjoy Beckie as a solo performer. This celebration proved to have exceeded expectations. I was charmed by her choice of material, amused by her anecdotes, and touched deeply by her open-hearted revelations around her love affair with her instrument. The management of the venue Rhapsody has made its name as a purveyor of classic magic shows rather than live music, but Menzie was not to be denied because of the Steinway concert grand piano that she knew was available there. She explained how much the responsive "touch" meant to her as an artist. It seemed that the Menzie touch was an important sub-theme for the evening: touching and being touched.
Surveying the program, we see selections heavily laden with modern material. Like friend and frequent collaborator Lina Koutrakos, both Rhythm and Blues as well as Pop/Rock seem to speak to Menzie personally without neglecting well-chosen songbook standards.
She set off with "Lulu's Back in Town" (Harry Warren / Al Dubin) a standard from 1935 which morphed into "Beckie's Back in Town" followed by Carole King's "(You've got to take the) Bitter with the Sweet" from the fourth Carole King Album Rhymes & Reasons. Menzie recounted how she was so influenced by King in high school that she had the same hair-do!
"Try a Little Tenderness," a standard from 1932 reinterpreted as a soul anthem by Otis Reading seemed to contextualize relations with husband Berkowitz providing "the right touch." It was paired with "Someone Exactly Like You (a smooth jazz love ballad by Van Morrison). It was followed by a rendition of "Me & You, Just Us Two" that was so hot Menzie brought down the house when she mimed in gesture (smoking after sex).
Climaxing this part of the program, "Ribbon in the Sky (for our love)," a splendid Stevie Wonder love ballad with a beautiful piano and percussion accompaniment, a popular R&B wedding anthem lifted up by Menzie and Berkowitz.
In what I took as an homage to her gay friends she moved to Nat King Cole's unique hit song "Nature Boy." Sensitive to how short the folk-like piece is Menzie got to the heart of the piece in an extended piano improvisation between verses which moved me to tears. Boy, did she "get" this song.
Turning her thoughts to home-town Pierceton, Indiana, Menzie talked about her beginnings as a piano student. She said she played a lot but not her assigned lessons – and how her first teacher often admonished that her sight reading was adept but not "what was written."
Next, she introduced a Billy Joel section with a classic Billy Joel Piano Invention which led into the hit song "Scenes from an Italian Restaurant." "Big Shot," Billy Joel's ironic story song critical of rocker/celeb bad behavior followed. Menzie goes deep with a gospel-inflected rendition of Joel's "River of Dreams," searching for meaning in the middle of the night (mashed up with Elton John's "Circle of Life").
Speaking of her recent experience of coaching at the Great American Songbook Academy, she commented on the important influence of another singer/pianist, Michael Feinstein, on her career. She mentioned that her group at Michael Feinstein's Songbook  Academy was nick-named "Beckie Brave" and then confessed that her bravery sometimes goes too far. But Feinstein approved of the following ostentation, a mash up of "I Only Want to Dance with You" and "Shall We Dance" Over the top, yes, but Feinstein said, "Keep It."
A favorite of Feinstein and Menzie, Susan Warner's transporting up-tempo "1955 Chevy Bel Aire" from her album An American in Havana was next.
Then a return to the theme of taking the bitter with the sweet, with a home-town anecdote regarding a miss-hap with the loss of her first up-right piano, reinforcing the issue of why the grand piano has become so important for "the touch."
Menzie then told an anecdote about how singer/songwriter, Alicia Augello Cook, got her stage name: Alicia Keys. The singer revealed the special meaning of the name that made it stick with her. "I was like, 'Keys' — I play the piano and that's keys, and keys (also) open doors and I want to open doors."
"It was her passion for the piano," said Menzie. The story leads into a scary story song "Underdog" set in NYC Hell's Kitchen where Keys (and Menzie) asks us to look up and take notice about the homeless, the hustlers, the underdog.
Next came the Irving Berlin standard "Let's Face the Music" with a dark subtext, beginning with a penetrating reading of "There may be trouble ahead." Here, Menzie seems to allude to current events but also to something more personal with her sense of encroaching darkness.
Menzie's eleventh-hour-number is Lady Gaga's "Always Remember Us This Way" with the foreboding lyric "when the sun goes down and the band won't play . . . remember us this way."
In her thank-you's Menzie singled out all the singers she has worked with and her collaborators and those who made a 35-anniversary celebration possible while also alluding to personal health challenges that could complicate her performing life going forward. She certainly left us all choked up. It was a gift to share so personally with her fans and followers, but she gave us hope that there will be many other memories from this very special entertainer.
Her closing number, a signature medley of "Fascinating Rhythm," "The Rhythm of Life" and "Crazy Rhythm" lifted spirits.
Her encore summed up the theme (of a love affair performing live with the acoustic piano) in an original song by Menzie and Coons. Asked to comment on the work, Cheri Coons told us the song is called "When I Touch You." Going on, Coons said:
"Menzie and I have worked together for many years, and she contacted me to ask if I could provide lyrics for a summing-up song for her anniversary show. I leapt at the chance to do this – not just because I love writing with Beckie, but because I was excited about the idea of writing something to capture what Beckie means to me as a friend and collaborator, and what she means to our community of singers and music lovers.Beckie came to my house, and we talked for about an hour. I asked her to tell me what playing the piano means to her, and the ideas for the lyrics flowed from that conversation. She returned to the idea of "touch" frequently as she spoke. How the physical touch of playing various kinds of pianos is different, and how much she loves playing a beautiful acoustic instrument, like that glorious Steinway concert grand at Rhapsody.
We wrote "When I Touch You" as a love song from Beckie to the piano, in gratitude for how it connects her to so many people. All of us in the cabaret community are grateful for this gift of hers, as well as who she is as friend, mentor, and co-creator of so many shows. To hear her speak about the way that her artistry starts with physical touch – literally touching the keys and hearing the voice of the instrument respond – was very moving. That's the impulse that inspired the lyrics.
For this song, I drafted the lyrics first, then Beckie set them musically, and we met together a final time to smooth out a couple of tricky spots.
As Beckie shared in her introduction to the song, when she reviews her health priorities with her doctor each year, being able to play the piano is consistently the first and most important. It's not just what she does professionally, it's part of who she is. I can't imagine a better illustration of that than the stunning piano arrangements in her "Accompany Me" show. She has a particular genius for creating, with her hands, full and imaginative orchestrations. Her musical brain is endlessly inventive, and it connects with her hands and heart and touches us all."
Here are the lyrics:
88 strings to make connection.
88 keys to unlock a heart.
How can I say what it means to play?
Where do I start?
You were my sailboat,
Pushing off from the shore.
Gave me a sense of myself.
A sense of my value and more.
And when I touch you today,
I feel who you helped me to be.
From an uncertain girl
To a confident woman.
But most of all, best of all, me.
You were my lifeboat
When I drifted at sea.
Thought I was floating alone,
But you brought my rescue to me.
And when I touch you today,
I know what it feels to be found.
With a circle of friends
That's a circle of singers,
So simple. So pure. So profound.
We play together, you and I.
Two parts that make a whole.
And every day I'm grateful that you chose me.
My friend, you're made of wire and wood
How can you have a soul?
But I can feel that something in you knows me.
You've been the vessel
For a musical life.
You are a part of each day
Every role that I play
And when I touch you today,
I feel who you helped me to be.
A fortunate woman.
Most of all, best of all, me.
"When I Touch You" © Cheri Coons and Beckie Menzie, all rights reserved.
Beckie's website is https://beckiemenzie.com/
-Daniel Johnson