On April 4, 2022, at a nearly sold-out Szold Hall, CCP came back with a dazzling Musical Mondays: Passing the Torch. The production team is to be commended for a brilliantly conceived and gracefully performed new Musical Monday, the first since 2019.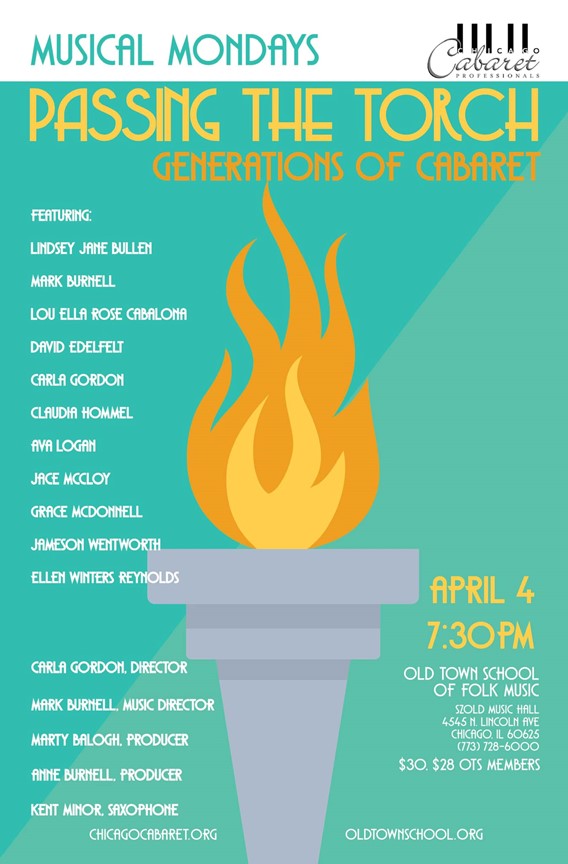 It was all about artistic generations, with a group of seasoned professionals, the "old guard" if you will, passing the torch to a group of newcomers (relatively speaking). Considering that one of the challenges we face as advocates for cabaret is that our audiences may prefer polished practitioners and seem cool toward the new or unfamiliar, we face the reality that our participants (both fans and entertainers) are growing older and less in touch with contemporary entertainment. Clearly, if we don't grow, we perish.
It is not only noteworthy that CCP gave newcomers a showcase in this instance, but the sophisticated and artful way in which they did it. Generations teamed in duet work throughout, alternating with solo work on either side. Both were illuminating. The two acts were both introduced with counterpoint duets, part one introduced with a recognition of how good it is to be back live after the Covid-19 closures. Grace McDonell and Ellen Winters kicked of the evening with pure sonority on "Be Happy" and "Happy Days" (not just apt, but favorably recalling the Garland/Streisand rendition). This was balanced by part two opener, Irving Berlin's counterpoint "I Wonder Why" and "You're Just in Love" charmingly performed by recent college graduate Jace McCloy and stage veteran Carla Gordon.
Both generations had moments that were ostentatiously entertaining, like tenor Jameson Wentworth's amazing and witty mash up of two "audition" pieces from recent musicals. Stalwart David Edelfelt gave a brilliant rendition of Maltby and Shire's "If I Sing" and Claudia Hommel brought a devastating "When the World Was Young." Ellen Winters glittered with an outstanding jazz performance of "Lady be Good" and Lou Ella Rose graced us with an inspiring "A Million Dreams," as well as a hot duet "Teach Your Children Well," sung with Mark Burnell.
To balance a unified theme, there was variety in material, with songs ranging from the original (Carla Gordon's "Singing in the Car") to contemporary hits from stage and screen. And there was diversity in representation as well. Ava Logan brough familiar charm and generosity encouraging all of us to (in the words of the song from The Wiz) "Believe."  L.J. Bullen brought non-binary sensibility to their work especially in the torcher "People" which was both personalized and universal, not to mention brilliantly performed.
Music Director and mentor, Mark Burnell reminded us of his personal debt to his mentor Buddy Charles with his rendition of Buddy's nostalgic signature song "A Nightingale Sang in Berkeley Square." Mark, as brilliant as ever on keys, was ably supported throughout by Kent Minor on reeds, who elevated the evening with a refined sense of ensemble.
This is what cabaret should be.
−by Daniel Johnson