At the first Chicago Cabaret Professionals Emerging Artist Showcase, held on August 25, 2022, five up-and-coming performers dazzled a sold-out audience at Davenport's Cabaret and Piano Bar, and demonstrated the diversity of talent emerging on the Chicago cabaret scene. While each of the performers had a history in music and had performed before in other concerts, this was the first time they were showcasing their talents in a cabaret setting.
It was a rare evening in Chicago cabaret to see a new generation of artists performing  before an audience of a renowned group of established Chicago cabaret artists, including Denise Tomasello, acclaimed by the press as "The Queen of Chicago Cabaret;" Anne Burnell, current president of Chicago Cabaret Professionals, Wydetta Carter; Host of Cabaret Beat; Daryl Nitz, CCP past president and Chicago Cabaret impresario with Daryl Nitz Entertainment; Marianne Murphy Orland of Girls Like Us; as well as Claudia Hommel, Executive Director of Working in Concert; David M. Stephens, Managing Director of Black Voices in Cabaret; and Hilary Feldman, Artistic Director of Acts Of Kindness Cabaret.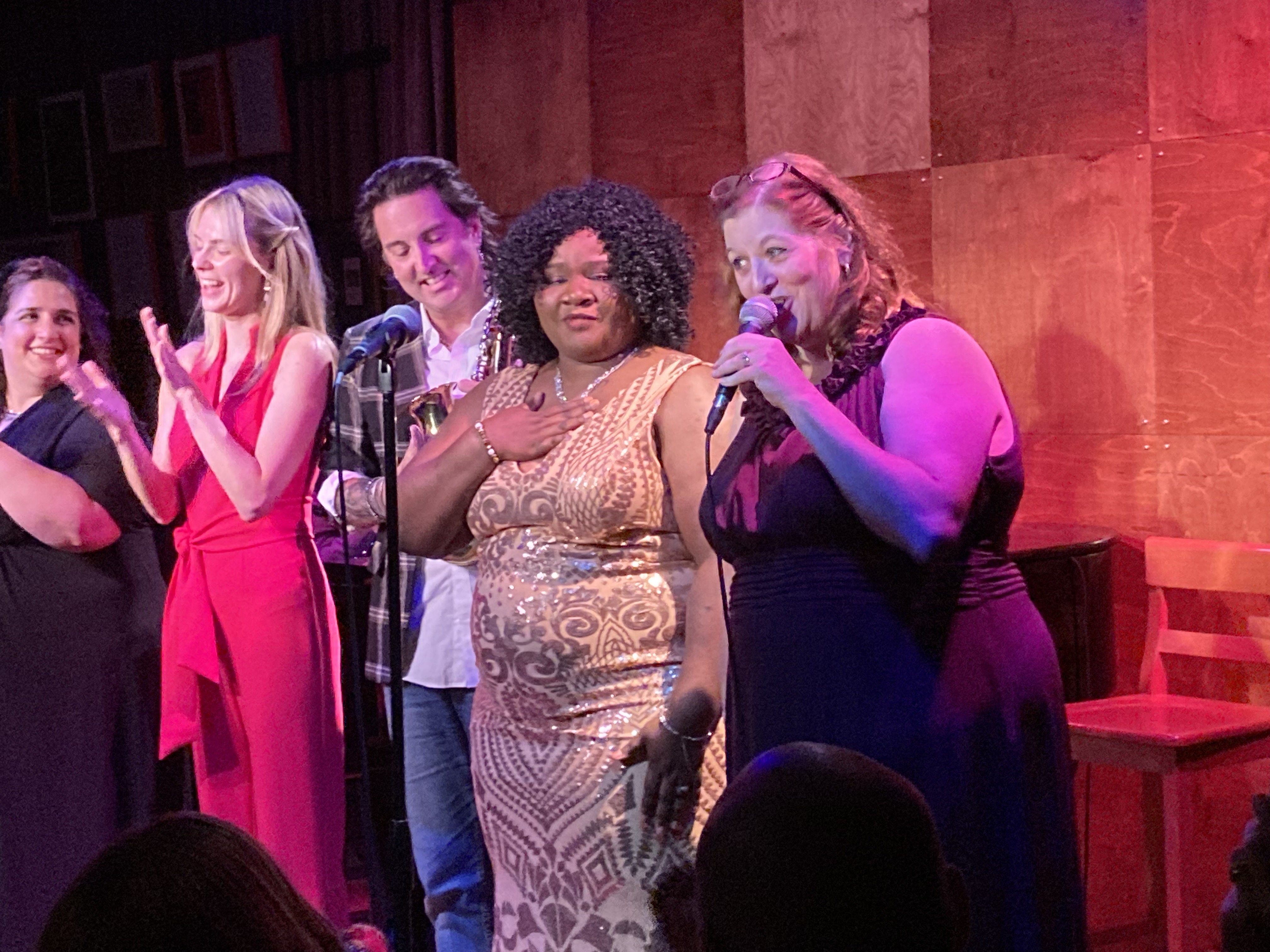 Cast with Ellen Winters presenting at Emerging Artist Showcase
"All of the performances were outstanding, and each was unique, with songs that reflected the talent of the artist and stories that revealed the meaning of each song," according to Ellen Winters Reynolds, Education Committee co-chair, who served as Master of Ceremonies and produced the Showcase along with Vice-President Patricia Salinski.
The Showcase culminated a month-long process with aspiring cabaret artists submitting audition materials and an event committee selecting five performers to receive mentorship and training in preparation for their three-song sets. The Showcase presented as a competition — with one performer selected by a panel of judges to receive a scholarship to help develop a future solo cabaret show.
According to Anne Burnell, president of Chicago Cabaret Professionals, the idea for the Emerging Artist Showcase developed from Strut Your Stuff, an event that gave aspiring cabaret artists an opportunity to perform a mini-set for an audience. The Showcase added the extra dimension of mentorship and workshop training from a group of our professional members, on how to develop solo performance — best practices from selecting songs and vocal training, to audience patter and marketing a show.
The mentors and workshop hosts were: Jay Cook, Joan Curto, Hilary Feldman, Laura Freeman, Carla Gordon, Amy Lechelt, Beckie Menzie, Daryl Nitz and Greta Pope. Amy Lechelt expressed how mentoring was an opportunity to continue a Chicago Cabaret Professionals tradition: "I remember my first cabaret performance: the excitement, nerves and fear (forgetting words at times!), and yet trusting that all involved had my back, and trusting that I was in great hands. Now, as a mentor, we are given the honor of passing on the torch of what the previous generations of mentors have taught us, not only through their lessons, but also by watching their performances."
Marianne Murphy Orland, a longtime member of Chicago Cabaret Professionals remembers getting her start at Strut Your Stuff. "My first cabaret performance was with Strut Your Stuff, and although I had been singing professionally for eons before this, cabaret was a brand-new genre and a whole new world for me. Instead of dancing and grinning, as one does as a band singer, I had to find my connection to the lyrics and trust myself standing still with those emotions in an intimate group and space. HUGE change, and the beginning of one of the most satisfying chapters of my musical life."
Meet the five Showcase performers
The Showcase process began with an open audition, where emerging artists could submit a video or recording. Of the nine that were considered five were selected: Emily Buckner, Chad Gearig-Howe, LaShera Moore, Lou Ella Rose, and Kristin Sponcia. The producers of the Showcase were Ellen Winters Reynolds and Patricia Salinski. Music Direction was provided by Philip Seward.
Lou Ella Rose is the lead singer/founder of Filipino folk fusion band, SamaSama Project and she has performed at concerts and festivals in the Midwest as well as World Youth Day in Madrid. She also has a diverse performance resume, appearing in musical theater, TV soap operas, live shows, and TV commercials in Manila and Singapore. Lou Ella's range was evident in a performance that was comedic, dramatic, endearing and heart-felt as she entertained with "I'm Going Bananas" by Michael Kernan and Andy Paley, "Smile" by Charles Chaplin, and "A Million Dreams" by Benj Pasek and Justin Paul.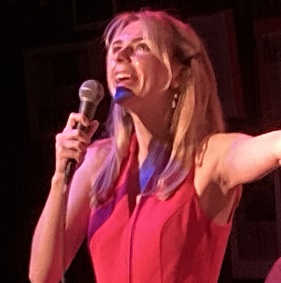 Emily Buckner recently moved to Chicago from North Carolina where she grew up and had performed in local theater. In her Showcase performance, Emily told a story of growing up with the romantic idea of finding the perfect mate — like those leading actors in Broadway musicals — then wondering if she would ever meet the right person, and then moving to Chicago and finding love in an unexpected way. Emily captivated the audience with her beautiful soprano voice and a selection of Broadway songs that expressed developing ideas about love and relationships. Her story was told through "It Might as Well Be Spring" by Richard Rodgers & Oscar Hammerstein II; "A Wonderful Guy" also R&H; and "Bill" by Jerome Kern & P.G. Wodehouse and Oscar Hammerstein II.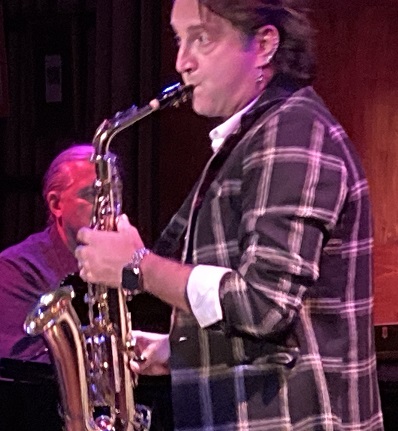 Chad Gearig-Howe had just returned to Chicago from five years in New Orleans where he was a music director and actor. He has a long resume of musical theater performances in such roles as Frank in Rocky Horror, Seymour in Little Shop of Horrors, and Corny Collins in Hairspray. Chad was charming and engaging, telling the story of finding love, losing love and trying to recover, with "Fly Me to the  Moon" by Bart Howard; "Getting Married Today" by Stephen Sondheim; and "Still Hurting" by Jason Robert Brown, showing his range as a performer and singer — and musician, playing the saxophone.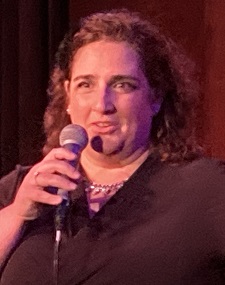 Kristin Sponcia recently moved from Milwaukee to Chicago — and opened her set by expressing how magical it was to be performing at a Chicago cabaret. Kristin is a pianist, vocalist, arranger, composer, and educator. She holds Doctor of Musical Arts in Jazz Performance (Voice) from the University of Illinois at Urbana Champaign. Kristin showed her versatility in singing and playing the piano, captivating the audience with "Children Will Listen" by Stephen Sondheim, "So in Love" by Cole Porter, and a jazz inflected "You've Got to Be Carefully Taught" by Richard Rodgers & Oscar Hammerstein II.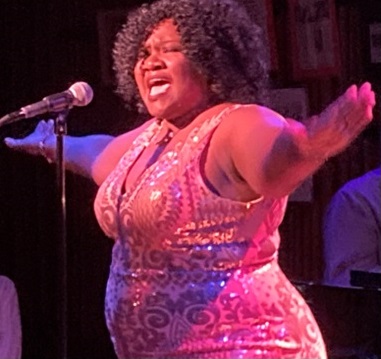 LaShera Moore is a Chicago native and graduate from Columbia College, accomplished as singer, lyricist, and actress. She has performed in a variety of venues and in a range of musical styles: Country, Gospel, Pop, Rock, Jazz, and R&B soul. LaShera wowed the audience with a powerful voice, soulful song stylings and captivating presence beginning with an intensely personalized jazz standard "All of Me" by Gerald Marks and Seymour Simons, a dynamic "I Loves You Porgy" by George and Ira Gershwin, closing with a powerful "And I'm Telling You (I'm Not Going) from Dreamgirls by Henry Krieger and Tom Eyen, which brought down the house.
LaShera Moore selected for the Denise Tomasello Scholarship Award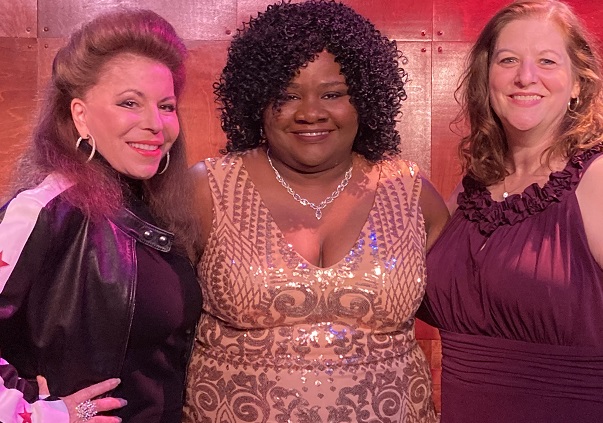 Scholarship recipient LaShera Moore (center) with Denise Tomasello, The Queen of Chicago Cabaret and Ellen Winters Reynolds, co-producer of the New Emerging Artist Showcase, August 25, 2022
by Charles Kouri