CCP partner Working In Concert has produced an amazing original music theatre work that people are talking about. On Call: Covid-19 is opera not cabaret, but we are pleased to note that it is cabaret influenced. Here is an interview with one of its creators, Christine Steyer.
− editor, Daniel Johnson

DJ: Congratulations Christine, on the debut of On Call: Covid-19, the virtual opera by David Shenton, composer, to your libretto.
CS: Dan, thank you so much for reaching out to me with these wonderful questions and for taking the time to watch both the professional and student premieres. I'm glad to have an opportunity to discuss this opera from a cabaret point of view––a genre of music that speaks to both of our hearts!
DJ: As cabaret artists we are interested in seeing our art form expand to genres beyond the Great American Songbook. It seemed to me that several aspects of this original piece are cabaret-like, from its size as a chamber opera to the intimacy of framing the story as a zoom meeting, as well as the inherent breaking of any 'fourth wall'. Both you and David are well acquainted with cabaret as performers. Did that familiarity enter in your creative thinking?
CS: We wanted to create a work that, as you said, really broke the fourth wall. Whether performed as a virtual opera, or as a live opera, the story, the characters and the music really need to connect directly with the audience. We did not need any exaggeration to heighten a story of healthcare workers—modern-day heroes—touching all of our lives.
Opera was certainly in its heyday for the majority of the 18th to 20th centuries but heading into the 21st century, it has drawn fewer operagoers and ticket buyers. Opera programs are being eliminated and major opera companies are reducing their seasons while expanding their non-operatic genre to keep the doors open.
This decline can be attributed to many factors. The one we really wanted to address was how to better connect with broader audiences.
DJ: Tell us how this outstanding project came about.
CS: As you may know, Bellissima Opera, a founding initiative of Working In Concert, had begun creating a series of new operas, "The Transcendence Series"—to celebrate individuals transcending the human divide. In June 2020, we were about to premiere the first opera in the series, Future Perfect, a modern fairy tale of self-discovery co-created with 1,300 youth, when the pandemic put an end to all performances. This left a void for David Shenton and me, not only because the opera was postponed indefinitely, but all of our performance work had also been canceled.
We realized that the individuals transcending the human divide were now on TV every night, telling amazing stories of global healthcare workers risking their lives in service to others, often fighting against political mixed-messaging and inadequate personal protective equipment.
Their stories became irresistible to us and within a two-minute discussion we decided to create a short opera honoring these workers.
DJ: The subject matter of your piece was very timely. That topicality may seem more typical of cabaret than opera. Other factors?
CS: The devil was in the details. We knew it would have to be a Zoom-like opera—one where each singer could record both their audio and video in a safe space, distanced from anyone else. It was also crucial that the opera be premiered by April 2021 as we anticipated things beginning to open up shortly after. It was a once-in-a-lifetime rush: I had to research the material, compile it into singable phrases, and turn it over for David to compose and to perform as pianist, then get it to the singers, and have their audio and video files go back-and-forth to audio and video editors to be assembled. Additionally, we were often working out of sequence, and without knowing what would be happening in real time. With the final scene to take place on New Year's Eve December 2020, we had to write the first two scenes earlier in the year without knowing how the opera was going to end.
We also wanted On Call to be customizable to the casting options that other companies might have. All the roles can be sung by any gender as long as the key remains the same (three high and three low voices). For that reason, David created a unique score changing the clefs and re-voicing the ensembles as needed. In fact, there was a voice change for the Western Michigan University cast. The Lebanon Healthcare Worker was played by a mezzo-soprano instead of a baritone who sang that role in the Bellissima Opera cast. This speaks to the universal nature of healthcare workers rather than always reducing them to a specific gender (doctor=man; nurse=woman).
Another way to personalize these characters was that each cast member chose the name of their character, inspired by someone who died of COVID or a healthcare worker fighting on the frontlines of COVID. In most cases they were composite names to respect privacy. It's very touching to hear the reasons the singers gave for the names they chose.
Of course, we needed to secure funding for this project. And that's where the community of small donors and individuals who really cared about what we were doing really started to come through to support us in a variety of ways.
DJ: Shortly after the professional debut the piece was successfully redone with a student cast. I know Bellissima is committed to outreach to young singers. Please tell us about that and your other project(s) with David Shenton.
CS: It is important for me that young people hear what the natural human voice is like. Since 2008, Bellissima Opera Outreach has brought free music to over 23,000 Chicago area youth directly in their classrooms, performing for them "cabaret-style" no more than 40 feet away. It is a powerful experience for students, many on the margins of society, to feel special and affirmed by having that direct up-close connection to live musicians. And it is important that we include relevant repertoire that speaks to them, to their hopes and dreams—combining old-style vocal virtuoso with new subject matter.
DJ: Carl Ratner, the director of your piece, is on the opera staff at Western Michigan University in Kalamazoo and he has important Chicago connections. His work on your piece was outstanding. Any comments about this and other local collaborators?
CS: We were lucky to have Carl on board. I have known him for many years and no one knows more about every single aspect of opera, from lighting to fundraising, from diction to singing than Carl. David and I ran every idea by him and received fantastic feedback.
Carl Ratner has been artistic director of Chicago Opera Theatre, Chamber Opera Chicago before that, and now Director of Opera at Western Michigan University. Not only was Carl ready to direct the two casts, but when we lost a baritone to illness (not COVID!) Carl, already immersed in the music, stepped in to play the Lebanon Healthcare Worker role.
It's been a rough year for music schools. We learned his university was considering closing down the opera department permanently. Since our opera used such a small cast and could be recorded in safe conditions, Carl hoped the school would keep the opera department open to do it. We were thrilled to have young people immersed in a positive project over this challenging year—and one that kept opera alive. With the success of this production and the wonderful work his students have been doing, they now have the green light to continue next year.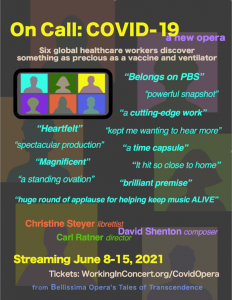 David and I wanted to create a work that allowed for as much collaboration as possible. We had essential feedback from the six singers so that each aria could fit like a glove. Our executive director Claudia Hommel gave invaluable feedback on the libretto as editor and storyteller. So many other people helped with aspects of this project.
In the end though, I really have to thank the reporters who provided over 200 articles that I used as research for the opera libretto. The characters were composites of true stories that I found from around the world. I would like to give a particular shout out to Christiane Amanpour interviewing the world's leading experts daily, and to the Atlantic Magazine that provided free articles on COVID throughout the whole crisis.
DJ: For our members who may not have seen On Call: Covid-19, will it be available beyond the debut?
CS: We will be re-streaming On Call from June 8-June 15, 2021. The June 8 performance will be followed by a live zoom with David Shenton and me. Ticketing information can be found at Workinginconcert.org/CovidOpera or contact christine@workinginconcert.org.