Rumors that Davenport's Piano Bar and Cabaret would be closing have been circulating for months. When asked for comment Donna Kirchman, co-owner, confirms that the property is on the market. She adds, "It is our whole-hearted desire to sell to someone who wants to keep the club alive."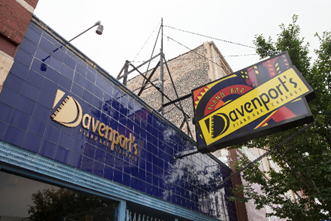 As is common when a show is about to post a closing notice, there is a rally-around effect. Patrons and clients have been rallying and hoping for the best outcome for the owners, the workers and for the cabaret community.
In these pages Davenport's, which is located at 1383 N Milwaukee Ave in Wicker Park, has been described as Chicago's best-known and oldest still-operating cabaret. In 2013 Chicago Cabaret Professionals (CCP) honored Davenport's owners with a special achievement award at our Gala. That recognition validated the impression many held that the club was functioning as CCP's de facto "club-house."
Joan Curto, president of CCP at that time mused "I don't know what Chicago cabaret would look like if we didn't have Davenport's. It allowed a lot of artists to get a start . . . to hone our craft."
In the Chicago Tribune, arts critic Howard Reich interviewed the owners on the club's fifteenth anniversary in 2013:
"We're so pleased we've been able to make it this long with our itty, bitty club," says Sue Berry, who opened the place on Veteran's Day of 1998 with business partners Donna Kirchman and Bill Davenport (Berry and Kirchman later bought out Davenport).
"Small businesses don't normally last so long," adds Kirchman. Especially when they're selling the fragile art of cabaret.
So why has Davenport's stayed open, while rooms such as the Gold Star Sardine Bar, on North Lake Shore Drive, and Toulouse Cognac Bar, on North Lincoln Park West, have long since faded into history?
"I think it's because it's a passionate business, rather than just a cash-register-ring kind of business," says Kirchman, "Everyone's doing this because they love it – it's got such a positive energy."
The importance of Davenport's fate to our cabaret community prompts momentous concern among artists and fans alike. Laura Freeman CCP president emeritus recalls "For a long time, if you didn't play Davenport's, you weren't taken seriously.  It was THE place to play and to be seen.  Even the open mics brought out the best singers in town.  There was a feeling of home, of safety . . . to try new material, to impress the owners/ bartenders/ other singers/ pianists.  Every week, the room would fill up and you knew the night was going to be memorable. Then the back room would let out and the energy in the front room would change, now you were at a full-blown party! The noise, the crowd, the music. I'm going to miss it."
Many artists would agree with comments by Joan Curto and Dan Michel, who remember the club as a vital training ground. Michel says "Davenports is where I learned to be an artist. There are no other venues in Chicago that have talented singing staff, giving high-quality entertainment every night while creating a fun atmosphere. It is my musical home and family for over 20 years."
But beyond its importance to regional artists, Davenport's has long been a preferred venue for artists with national reach. For many years the likes of Amanda McBroom, Andrea Marcovicci and Karen Mason made Davenport's part of their itinerary. More recently Jeff Harner, Steve Ross and David Sabella have graced the back room with road shows.
Carla Gordon asserted in March/April Cabaret Scene magazine that Davenport's is closing since they are not accepting bookings past April. However, this news has been a moving target. The owners have now extended booking through May. Kirchman adds "We can assure the stability of these bookings as we have a three-month clause in our real-estate broker agreement. We encourage the Chicago cabaret community to book a show (through May). We are excited to be participating in the upcoming (second annual) Cabaret Week (May 12 – 21) and we have already booked Saturday night."
There are many exciting upcoming bookings listed and we hope that more wonderful memories will be made until this all sorts out. Chicago-born Karen Mason will be back for three nights, April 27, 28 and 29. Her visits are something of a tradition, having consulted with Berry and Kirchman at the clubs opening and having celebrated their 20th anniversary in 2018. Also, I notice that New Yorker with strong Chicago connections, Wendy Scherl will present "The Sweetness and the Sorrow: the Music of Marvin Hamlish" on April 22. Scherl is also a board member of the American Songbook Association.
The entertainment continues in the front room piano bar courtesy of the fabulous Daryl Nitz, George Howe and Mickey York. Go to Davenport's Piano Bar & Cabaret | Chicago for details.
One thing is certain, Davenport's has made its mark in the annals of Chicago cabaret.
−by Daniel Johnson