The first season of this new video series is off to a great start.
In a year unlike any other, where audiences could not come to the cabarets, clubs and music venues, Chicago Cabaret Professionals (CCP) has continued to bring performers to the people. In December, the CCP Gala was a virtual event presented live on Facebook and YouTube, and in April, CCP launched a bi-weekly video show called Cabaret Beat: Music & Conversation with Wydetta Carter as the host. These virtual events have enabled members, fans, friends — and people around the world — to see CCP performers outside the clubs and showcased the art form in a more personal way.

"The virtual Gala was a very different than hosting the event at a club with a band and a large audience, but the performances touched people's hearts — even through a screen," explained Anne Burnell, CCP President. "Creating the online Gala gave us the experience to do a video program, and also showed that there was an audience for virtual programming featuring cabaret artists."
Cabaret Beat was initially proposed by Wydetta Carter as asocial media program that allowed CCP members to share their musical journey to the cabaret world, and, as Wydetta says in the opening of the show: "There's never been a more important time for us to engage, connect, and share our experiences through music and conversation. Until we can all come to the cabaret again, we are coming to you with some of your favorite singers, new voices you may not have heard before — their stories and, of course, great music."
Each episode features two artists, each in a 20- to 25-minute segment that includes a pre-recorded performance, a live interview and a live performance. The performers appear from their home or studio, and the casual and intimate conversation focuses on getting to know each artist, what inspires them, and how they develop their shows.
"I love talking to people and finding their 'back stories' and I believe other members and those who support CCP enjoy it as well," says Wydetta. "I know that each guest has shared something about themselves that even members who have known and worked with them for years didn't know. I think that is wonderful."
Anne also sees how the stories shared on Cabaret Beat are bringing people together. "We are a close-knit group, but we do not always know each other's story, and Wydetta does a wonderful job of asking questions that reveal the personal stories. We have heard from new listeners and die-hard fans that they are genuinely moved by the artists journey."
The shows are taped in advance over Zoom and streamed on Sunday evenings at 6 pm. The videos can also be viewed anytime on Facebook and YouTube — and, to date, the first four episodes have received more than 200 views on YouTube and over 1,500 views on Facebook, at the time of this writing. These impressive numbers include viewers from across the country, and the streaming format allows viewers to post messages about the broadcast. The hundreds of comments reflect a supportive community excited about seeing the performers, learning their stories and sharing the experience with others.
Producing an online show has required a team effort, from the development of Cabaret Beat and ongoing production plus publicity, graphics, and technical requirements of recording remotely from different locations. Each episode involves maximizing the picture quality, as well as adjusting lighting and sound for the musical numbers. Production and editing is done by Painted Bamboo, a video production company.
"We are learning something new with every episode," says Wydetta. "We encourage members and viewers to share their thoughts about the show and to share the videos on their social media pages."
THE FIRST SEASON UNDER WAY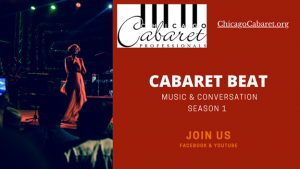 The eight-episode series premiered on Sunday, April 11, after months of planning by the Production Committee. There was an open call to be a guest on the show and 16 artists were selected for Season One. The selection process was largely based on presenting the diversity of CCP membership, including established artists, new voices, writers and producers.
Episode one aired with guests Cathy Glickman and Carolyn Wehner, Episode two with guests Maureen Christine and Kevin Wood, Episode three with guests Lou Gale and David Edelfelt, and Episode four with guests Laura Freeman and Michael Joseph Mitchell.
Upcoming episodes on YouTube Sundays at 6:00 pm CST:
Episode five on June 6 with guests: Carla Gordon and Ellen Winters Reynolds
Episode six on June 20 (Father's Day) with guests: Cynthia Clarey and Cindy Firing
Episode seven on July 4 (Independence Day) with guests: Catherine Thomson and Charles Kouri
Episode eight on July 18 with guests: Wendy Parman and Josephine Sanges
Some of the performers commented for Quarter Note about their experience.
"I think Wydetta is brilliant, engaging, generous and warm, and the pairing has been very smart. Friends who saw the episode I was in loved it and said they learned things about me that they didn't know."
"I was absolutely thrilled to be a guest on the very first episode of Cabaret Beat. The concept of the show is great. I've had the pleasure of working with Wydetta before, and I knew her delightful personality and perfect amount of sass would shine through. She's a gem and I can't wait to see all the future episodes,"
"As a member of the Production Committee, it was really wonderful to see Cabaret Beat develop from an idea to this wonderful new program. It feels good to know that the program can be viewed by anyone in the world and that we are making a connection."
SHOW SPONSOR
Cabaret Beat is sponsored by CelloVia, a family-owned company that makes small batch and private label spirits. CelloVia owner Carey Chickerneo and sales manager Alex Magno, and a longtime member, have been supporters since 2019, first providing gift bags for fundraisers, then creating an exclusive Chicago Cabaret Vodka with a portion of the proceeds going to CCP. In each Cabaret Beat, Alex provides a cocktail recipe that includes Chicago Cabaret Vodka. According to Alex, who performed at the Met for many years, "I am having so much fun creating delicious cocktails — but being on camera is a lot harder than singing in front of a thousand people."
The success of Cabaret Beat, with the support of the cabaret community, shows that in spite of last year's challenges, through music and art, we connect with our hearts to our audience and beyond.
PROGRAM NOTE
Seasons Two and Three will continue in 2021! The deadline for submitting for Season Two is Thursday, July 15. Details on submission requirements will be available on www.chicagocabaret.org in June.
− by Charles Kouri